Wednesday, December 2, 2009
posted by Deuce Richardson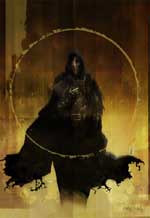 Last weekend, Nick Owchar reviewed The Return of the Sorcerer for The LA Times. The book itself is a new "best of" collection featuring the tales of Clark Ashton Smith and is published by Prime Books.
Owchar starts out well enough, noting that the "Weird Tales Circle" does not get near the attention it should from mainstream literary critics. I agree. Umpteen tomes have been published going on about the "Bloomsbury Group," whilst the inferno of synergistic creativity that blazed around the core members of the "Weird Tales Circle" goes largely unexamined. As Leo Grin stated four years ago, "someday a book combining the lives of all three Weird Tales geniuses — Howard, Lovecraft, and Smith — will have to be written."
Mr. Owchar proceeds to quote a bit from what sounds like a solid introduction by CAS (and REH and HPL) fan, Gene Wolfe. Owchar calls Smith "an overlooked master of a wholly original vein of horror and hallucinatory science fiction," while also noting CAS's endeavors in the fields of poetry as well as the graphic and sculptural arts. Towards the end of his review, he expresses a deep admiration for Smith's work and a hope that Klarkash-Ton's oeuvre will soon achieve the recognition it so richly deserves.