Wednesday, January 31, 2007
posted by Leo Grin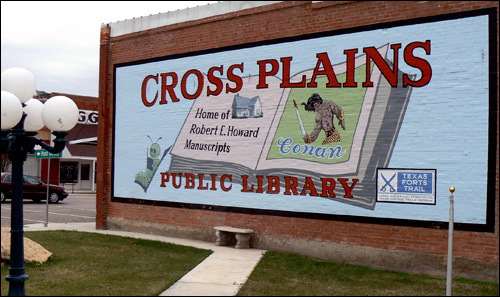 Check out this article about the Cross Plains Public Library in the Abilene Reporter News today (hat tip: Don Herron). Apparently our favorite library (and Cimmerian archive location) has made the final cut into a new book on the best small libraries in the country.
Small wonder — REH Days attendees have marveled for years at the Library's sizable collection of Howard materials, including original typescripts, pulps, fanzines, and assorted rare hardcovers and paperbacks. At times the Library that Howard hero Billie Ruth Loving (1920-2004) willed into existence has played host to a gallery of Gary Gianni paintings of Solomon Kane and Bran Mak Morn, to talks about Howard and the publishing industry by the head honchos at Paradox Entertainment, and to numerous "Meet the Author" events from writers around the state.
In fact, their latest shindig features none other than The Cimmerian Blog's own [redacted], author of the new REH biography Blood & Thunder: The Life and Art of Robert E. Howard. Mark will be in Cross Plains on February 13 to talk at the Community Center about Howard. Wish I could be there — I'm hoping that local Howard fans will show up to take photographs and record the event so the transcript can be printed here or in TC proper.