Wednesday, April 29, 2009
posted by Deuce Richardson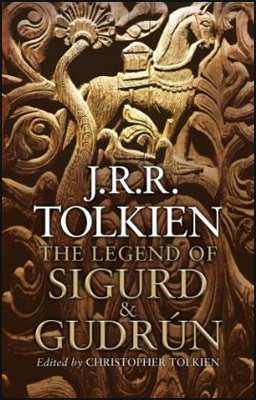 We live in halcyon days, my friends. Sure, there's a global "economic downturn" grinding all and sundry 'neath its leaden wheels and there is a possible influenza pandemic looming (or "lowering," as REH might say), but we aficionados of the works of Robert E. Howard and John Ronald Reuel Tolkien have much to celebrate in the many coming months, gloom n' doom notwithstanding.
Firstly, there is The Legend of Sigurd and Gudrun by JRRT, which is being released on May 5th. The dearly departed Steve Tompkins gave us (or, at least, myself) a much-appreciated heads-up on this project. At 384 pages, this volume outstrips the recent The Children of Hurin in pagination, though only time will tell whether it does the same in its quality of story-telling. Considering Tolkien's deep investment in the mythic 'Nordic' North (far deeper than Howard's, I would argue), I have high and lofty hopes for this publication. The dark and bloody Volsungasaga, forged in the depths of the Germanic Dark Ages, was always a well-spring of inspiration for Tollers.
Coming in October from the Library of America is the Peter Straub-edited, American Fantastic Tales: Terror and the Uncanny from Poe to the Pulps. Nestled like a blasphemous, obsidian jewel amongst tales from Robert W. Chambers and Clark Ashton Smith (and, of course, Poe) is Robert E. Howard's seminal Lovecraftian yarn, "The Black Stone." Inclusion of a Howard story in a Library of America publication is always a provocation for (at least minor) rejoicing. I have Bill Thom (of Howard Works and Coming Attractions fame) to thank for this welcome news.
REHupan Frank Coffman has his much-anticipated Robert E. Howard: Selected Poems volume (in cooperation with the Robert E. Howard Foundation) slated for a release to coincide with the 2009 Howard Days. Considering the "poetry" theme for this year's commemoration, Coffman's is a most fitting book, one which complements the recently published A Word From the Outer Dark (Project Pride), along with The Collected Poetry of Robert E. Howard. A banner year for REH poetry fanatics. (Continue reading this post)