Vintage Saunders Short Story To Be Posted Online
Wednesday, April 29, 2009
posted by Leo Grin

Print This Post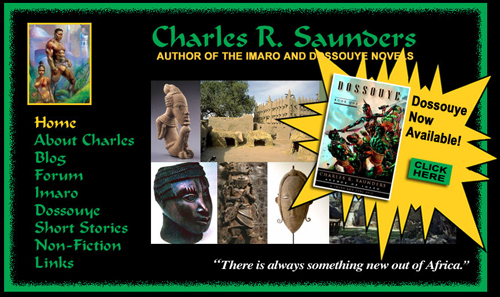 Just received the following announcement:
I'm going to try something new at CharlesSaundersWriter.com. My next four blogs are going to be a serialized story entitled "Luendi."

"Luendi" is one of my vintage short stories, written at the same time I was working on the first Imaro stories. That would be the early 1970s. It was one of the few stories I'd written that was not set in Nyumbani, or some other, unnamed fantasy version of Africa. But it wasn't exactly modern mainstream, either. Its setting is the Southern Africa of the late 1800s, around the time the Zimbabwe ruins were first discovered by Europeans. I did have something of an agenda when I wrote this, as I was a strong opponent of apartheid. So, I thought I would get one back — symbolically speaking — against the colonists and settlers of that time.

The story was published in the September 1977 issue of The Diversifier, a popular small-press magazine of the time. Times have changed a lot since then, bit I hope "Luendi" still has some resonance after all these years.

It will debut on Friday, May 1 and the next three installments will appear on May 8, May 15, & May 22.
Sounds like fun, I'll be reading with interest. And remember that Charles' revised edition of Imaro III: The Trail of Bohu is now available here.