***UPDATE: REHupa firesale continues
Monday, April 20, 2009
posted by Leo Grin

Print This Post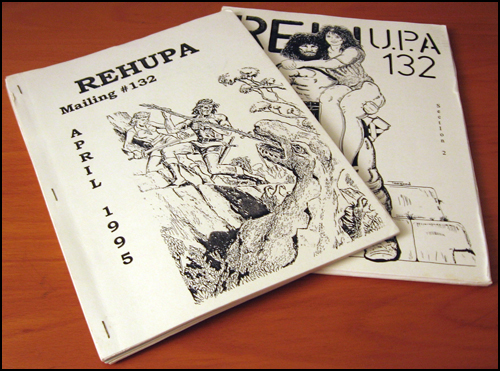 Seven more mailings of REHupa are on eBay, filled to the brim with rare Howardiana. Only one day to go, no reserve, and some have no bids. Steal them if you can!
For information on why REHupa mailings are rare, collectible, and an essential cornerstone of any good Howard collection, see here.
UPDATE: A few people got some great deals in that last batch, especially for #162, which contained the full massive research piece I wrote on Howard's favorite boxer, Joe Grim.
The next batch is now up, and includes some of the most memorable and collectible mailings ever to come out of REHupa. #118 — The 20th Anniversary Mailing. #176 — one of best Cross Plains/REH Days trip report mailings, with some great color covers. And #100, the biggest, baddest REHupa mailing of them all, jam-packed with multiple sections and extra booklets.