Wednesday, April 7, 2010
posted by Deuce Richardson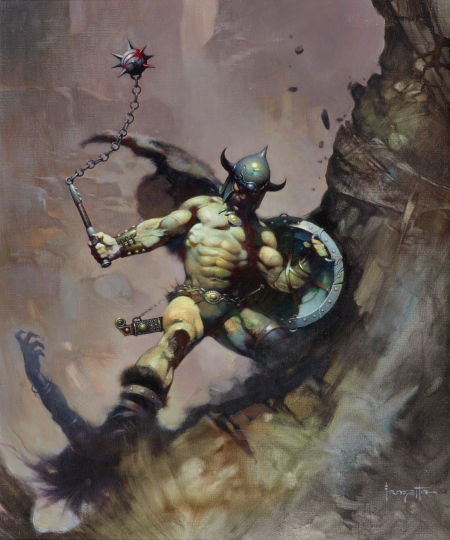 Heritage Auction Galleries is handling the consignment of a Frazetta painting that is probably well-known to most Sword-and-Sorcery art devotees. Here's the description from the website:
Warrior with Ball and Chain, Flashing Swords #1, paperback cover, 1973

Oil on board

23 x 19 in.

Signed lower right

This stirring, savage, and superb Frazetta masterwork, sometimes titled Warrior with Ball and Chain, first appeared on the cover of the sword and sorcery anthology edited by Lin Carter, Flashing Swords #1, Dell Books #2640, 1973.

One of the top Frazetta paintings in private hands, Warrior with Ball and Chain was purchased in the February 1993 Guernsey's auction, and according to its listing there, is one of the largest Frazetta covers ever painted. Some aficionados feel his piece may have been originally created for the Lancer Conan series of the late sixties, but not used there, since the Conan figures of two of the Lancer covers are so similar to the Warrior.

A copy of the Flashing Swords #1 paperback is included with this lot.