Another Frazetta Painting Up for Auction
Wednesday, April 7, 2010
posted by Deuce Richardson

Print This Post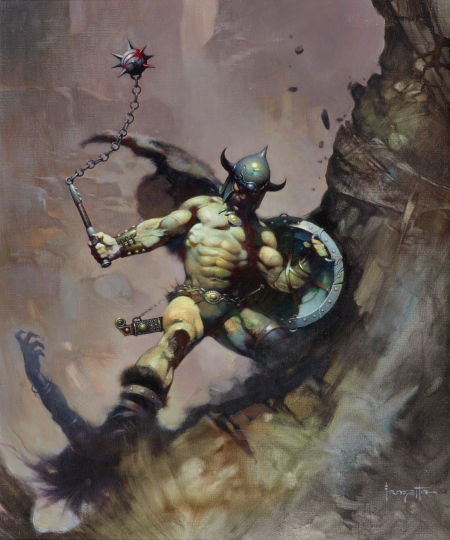 Heritage Auction Galleries is handling the consignment of a Frazetta painting that is probably well-known to most Sword-and-Sorcery art devotees. Here's the description from the website:
Warrior with Ball and Chain, Flashing Swords #1, paperback cover, 1973

Oil on board

23 x 19 in.

Signed lower right

This stirring, savage, and superb Frazetta masterwork, sometimes titled Warrior with Ball and Chain, first appeared on the cover of the sword and sorcery anthology edited by Lin Carter, Flashing Swords #1, Dell Books #2640, 1973.

One of the top Frazetta paintings in private hands, Warrior with Ball and Chain was purchased in the February 1993 Guernsey's auction, and according to its listing there, is one of the largest Frazetta covers ever painted. Some aficionados feel his piece may have been originally created for the Lancer Conan series of the late sixties, but not used there, since the Conan figures of two of the Lancer covers are so similar to the Warrior.

A copy of the Flashing Swords #1 paperback is included with this lot.
Interesting stuff therein. Obviously, the present sale is not connected with the recent sell-offs (and associated unpleasantness). This painting has been out in the wilds of art collecting for over fifteen years. Of course, to the best of my knowledge, "Ball and Chain" was never considered to be one of Frank's iconic works by the artist himself.
That said, it certainly displays the trademark Frazetta power and dynamism. The statement that the painting "may have been originally created for the Lancer Conan series" is a new speculation to yours truly. Still, the theory might have some merit. Certainly, the main figure could be that of Conan (though REH never wrote of the Cimmerian wielding a morningstar). However, I've been studying Frazetta's work for over three decades. This painting looks to me like it was done during Fritz's early '70s period. That was the same time that he painted such works as Silver Warrior and Death Dealer, as well as all of the SFBC "Barsoom" covers. As far as I know, that would place it too late for Frazetta to have created it for the Lancer series.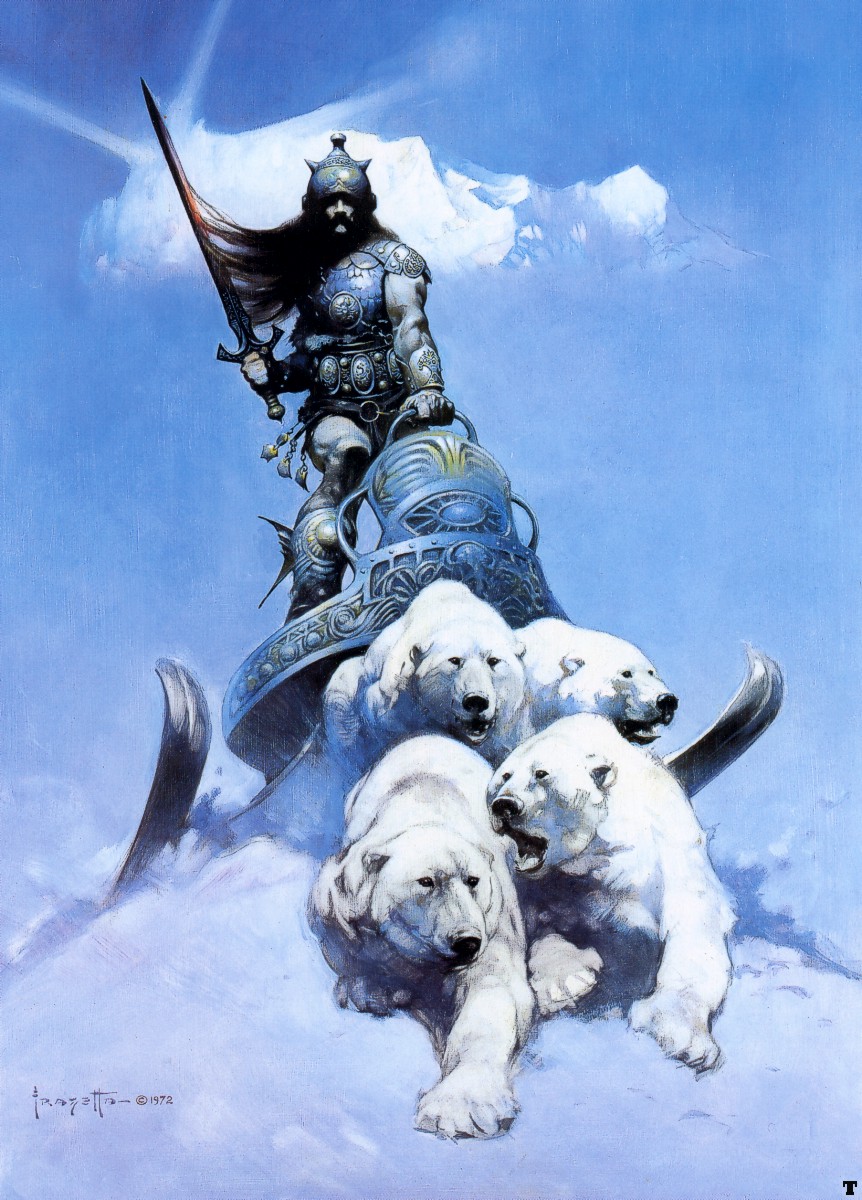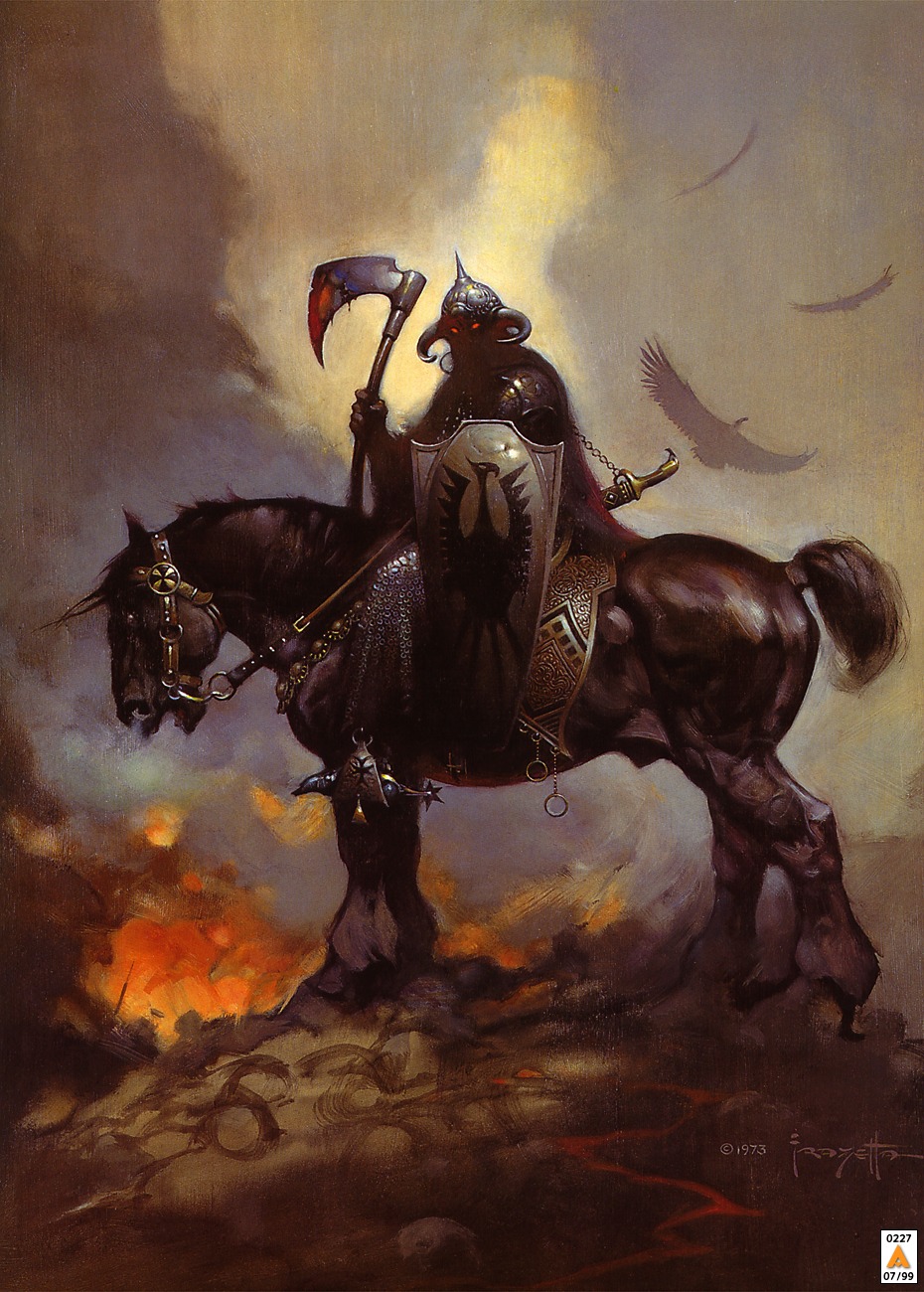 I think it quaint and almost touching that the seller is also including a copy of Flashing Swords #1 with the painting. That book launched the Flashing Swords series (obviously) and is arguably the best of the bunch. Edited by Lin Carter, it featured a new tale of Fafhrd and the Gray Mouser, a new story by Jack Vance set in his Dying Earth milieu, a Scandinavian fantasy by Poul Anderson and a story by the inveterately double-dipping Linwood Vrooman Carter.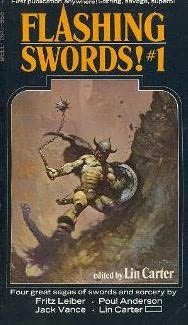 One final quibble (if I may)… this painting seriously needs a new title. A "ball and chain" describes a penal accessory.  A "morningstar" is a weapon of mayhem with a savagely ironic (and poetic) name attached to it. I'm all for calling this work of art, "Morningstar." Feel free to start a Facebook page about it.
*Art by Frank Frazetta