REH and JRRT Books on the Horizon
Wednesday, April 29, 2009
posted by Deuce Richardson

Print This Post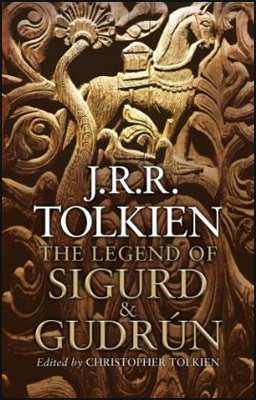 We live in halcyon days, my friends. Sure, there's a global "economic downturn" grinding all and sundry 'neath its leaden wheels and there is a possible influenza pandemic looming (or "lowering," as REH might say), but we aficionados of the works of Robert E. Howard and John Ronald Reuel Tolkien have much to celebrate in the many coming months, gloom n' doom notwithstanding.
Firstly, there is The Legend of Sigurd and Gudrun by JRRT, which is being released on May 5th. The dearly departed Steve Tompkins gave us (or, at least, myself) a much-appreciated heads-up on this project. At 384 pages, this volume outstrips the recent The Children of Hurin in pagination, though only time will tell whether it does the same in its quality of story-telling. Considering Tolkien's deep investment in the mythic 'Nordic' North (far deeper than Howard's, I would argue), I have high and lofty hopes for this publication. The dark and bloody Volsungasaga, forged in the depths of the Germanic Dark Ages, was always a well-spring of inspiration for Tollers.
Coming in October from the Library of America is the Peter Straub-edited, American Fantastic Tales: Terror and the Uncanny from Poe to the Pulps. Nestled like a blasphemous, obsidian jewel amongst tales from Robert W. Chambers and Clark Ashton Smith (and, of course, Poe) is Robert E. Howard's seminal Lovecraftian yarn, "The Black Stone." Inclusion of a Howard story in a Library of America publication is always a provocation for (at least minor) rejoicing. I have Bill Thom (of Howard Works and Coming Attractions fame) to thank for this welcome news.
REHupan Frank Coffman has his much-anticipated Robert E. Howard: Selected Poems volume (in cooperation with the Robert E. Howard Foundation) slated for a release to coincide with the 2009 Howard Days. Considering the "poetry" theme for this year's commemoration, Coffman's is a most fitting book, one which complements the recently published A Word From the Outer Dark (Project Pride), along with The Collected Poetry of Robert E. Howard. A banner year for REH poetry fanatics.
Farther off on the horizon is the (as yet unnamed) volume from Del Rey featuring the adventures of Francis X. Gordon (aka "El Borak") and Kirby O'Donnell, with the 'non-Mythos' version of "The Fire of Asshurbanipal" included as the kicker. Tentatively scheduled for an early 2010 release, this trade paperback will feature art from Timothy Bradstreet and the illustrious Keegans. While no "Frank Gordon/Lal Singh" juvenilia is to be included, Rusty Burke has assured REH fandom that those texts will be published around the same time as the Del Rey book. Jay Zetterberg at Paradox has kindly provided a preview of Bradstreet's art on the Official Robert E. Howard Forum.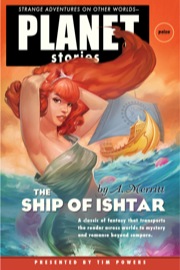 The publication of A. Merritt's The Ship of Ishtar by Paizo Books (publishers of the most recent edition of Almuric) is not strictly REH- nor JRRT-related. However, I will say that this book is perhaps the most durable and massive milestone on the road to sword-and-sorcery that exists. Scheduled for July 2009, this is a major publishing event in the fantasy realm, since it brings back into print the Borden Memorial Edition of 1949, the longest and most complete edition of Merritt's masterwork. Add in an intro by REH (and HPL and CAS) fan, Tim Powers, and you're looking at the best edition of The Ship of Ishtar between two covers ever. Period. My thoughts on the relationship between this n0vel and later works by Robert E. Howard can be heard on David Drage's "dialpforpulp" podcasts.
Jumping from a Howard influence to a Howard acolyte… Paizo Books is releasing Leigh Brackett's The Sword of Rhiannon in the first week of June. Oldsters and REH collectors may remember that "Rhiannon" was the other half of the Ace "double" (#36) which featured Conan the Conqueror. It was possibly the most complementary and satisfying pairing that Donald A. Wollheim ever devised during his tenure at Ace Books. Brackett pulled out all the stops for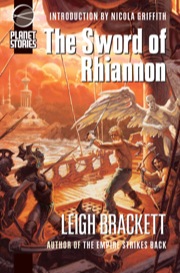 The Sword of Rhiannon, letting her REH-fan/freak colors fly for all to see. Martian cities reminiscient of their most decadent Zamorian models, "Nordic" pirates and the most serpent-volkerisch snakies ("Dhuvians") this side of "The Shadow Kingdom" combined for a thoroughly rousing and satisfying read, all told in Brackett's post-Howardian, poetic, hard-boiled prose.
Gather ye the manna while ye may, true believers. The whole outhouse may go up in flames tomorrow (as James Douglas Morrison might say).