Slipcases Slippin' Away
Monday, January 29, 2007
posted by Leo Grin

Print This Post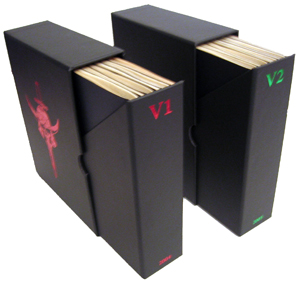 Well, it was bound to happen. After about nine months on the market, the fifty slipcases each made for Volume 1 and Volume 2 are just about gone forever. I only have a single slipcase left for each year. $40 per, grab 'em while you can. There's been a bit of a run on them over the past few weeks, I'm not sure why. Perhaps a few people finally realized that it was now or never, and that they might as well splurge a bit for a nice home for their Cimmerians.
As for the Volume 3 slipcases, they might go real fast after they appear. Subscribers who specified they wanted slipcases each year don't have to worry — they'll get their slipcase. Non-subscribers who want one should pre-order to reserve their case. Pre-order information will be posted sometime over the next few weeks. I anticipate the V3 slipcases being slightly more expensive that the older ones owing to their bigger size, but we'll see.
Those who missed out on both the Deluxe issues and the Slipcases — and want to catch up — there's still one option for you. Go to the Slipcases page and scroll down to the bottom, and you will see some Deluxe "Complete Sets" advertised. These are complete sets of Deluxe issues for those years, including the out-of-print ones, along with a slipcase for that year. The price tag on these is rising as more issues go out of print and as the slipcases sell out. So if you are toying with the thought of such a purchase, best do it sooner than later.
After three years, certain parts of the backlog are becoming scarce. What will the next generation think of all this when they come barreling on the scene someday? There hasn't been any selling of Deluxe issues on eBay to speak of, so no one seems to be getting rid of the ones they have, even those folks who stopped reading TC long ago for whatever reason and have issues to dump. Once some of the Limiteds go out of print, making it impossible to read those issues in any format, it should drive the new fans nuts. I know if I were just entering REH fandom and wanted to read all of that material, it would be a real tough pill to swallow.