First Look at the New "Swords" Books From Bison
Tuesday, December 1, 2009
posted by Deuce Richardson

Print This Post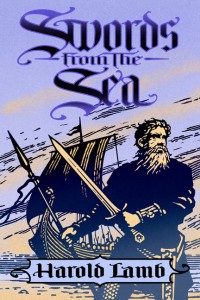 Howard Andrew Jones, fantasy author, editor and the man who gave Harold Lamb to the twenty-first century, just put the news out over the æther that the final two volumes in Bison Books' "Harold Lamb Library" are available for pre-order and will ship on May Day, 2010. Y'all feast your eyes on these tasty blurbs…
Vikings, pirates, heroes, rogues, and explorers . . . all have heard the siren call of the sea, and master storyteller

Harold Lamb

chronicled some of their most daring exploits. This single volume contains all of Lamb's historical seafaring stories, drawn from rare and fragile pulp magazines. Never before collected, these short stories and novels are a treasure trove of adventure. Best known for his stirring tales of Cossacks and crusaders, Lamb was no stranger to swashbuckling, and his sea stories deliver it in buckets.

 

Sail with John Paul Jones as he fights to save the crippled Russian fleet from the Turks, one eye always alert for the knives of his czarist rivals. Venture across the desert with a lone American on a desperate venture against the Barbary corsairs. Seek the Northeast Passage, beset by ice, storms, and traitors from within, at the side of explorer Ralph Thorne. Ride the whale road with the Vikings, plying their swords from Iceland to Byzantium. Introduced by best-selling author S. M. Stirling, this volume concludes with a rare behind-the-scenes look at Harold Lamb's writing secrets, penned by the editor who made him famous.
Tales of Vikings (including one of Harald Hardraada) and of John Paul Jones, America's original naval bad-ass? Sign me up. On top of that, S.M. Stirling returns as MC for this collection of Lamb's bloody and thunderous stories.
Their conquest was measured not in miles but in degrees of longitude. They smashed the gates of empires, overthrew

kingdoms, diverted rivers, and depopulated entire countries. They were the Mongols of Genghis Khan, swift and merciless, but also resourceful, bold, and cunning. Their tale has seldom been told in the West, and never by an author with the acumen of Harold Lamb.

 

Ride with young Temujin as he outwits schemers and assassins and rises to conquer Asia as Genghis Khan. Venture to the land beneath the northern lights on a mission of vengeance with Maak the Buriat. Stand with Aruk the gatekeeper and Hugo the Frank as they hold the pass against the Sungar hordes. Lamb's action-packed Mongolian stories, available here in one complete volume, restore the Mongols to their place in history, portraying them not as mindless barbarians but as men of honor and bravery who laid down their lives for their leader and their lands.
Anyone who has read earlier volumes in this series knows that Harold Lamb knew his Mongols. I've had the DMG edition of The Three Palladins in my library for years. Believe me, Robert E. Howard would give two thumbs up to these stories. Without a doubt, he read and loved several of them.
I'm diggin' everything about these two volumes, including the vibrant new color-scheme for the covers. If some curious reader out there wants to read the tales that laid the foundations of REH's Hyborian Age, look no further, my friend. All of the Harold Lamb collections published by Bison Books are tickets straight back to the red-handed days of pulp fiction that directly and fundamentally inspired a young Robert E. Howard.