The Collected Drawings of Robert E. Howard is ready to order
Friday, November 27, 2009
posted by Deuce Richardson

Print This Post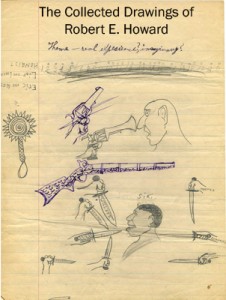 [redacted]
Now, just a little over two years later, this news from [redacted], over at The Robert E. Howard Foundation website…
The Robert E. Howard Foundation is pleased to announce The Collected Drawings of Robert E. Howard. This slim, 42-page volume collects all of the known artwork by our favorite Texan. All of the comics and doodles from his letters and all of the Hyborian Age maps have been collected, but that's not all. Many previously unpublished maps for stories like "Blood of the Gods" and "Wild Water" have been cleaned up and are presented here for the first time. Also, a fantastic discovery was made in Texas last year: Robert E. Howard's high school text book. On each of the blank pages within that book, a young Howard doodled characters from his favorite stories in Adventure magazine, 11 characters in all. There was also a loose sheet of paper folded in the book with additional drawings. All are collected here. Order today and, depending on which shipping option is chosen, it might just show up in time for Christmas.

The Collected Drawings is an 8.5 x 11, perfect-bound paperback with an introduction by Bill Cavalier. Prepared for publication by yours truly.
This sounds like a cool little package. Apparently, the REHF is going with a paperback edition from lulu.com for this volume, just as they did for the first edition of [redacted]'s [redacted]. What has me really fired up are the maps that will be reproduced. We know that REH drafted rough maps (just like Conan) for several yarns, including The Hour of the Dragon. On top of that, several of the drawings I've seen are quite good for an untrained artist. For complete information about this REHF project, see here.