Conan's Brethren In Court
Thursday, November 26, 2009
posted by Deuce Richardson

Print This Post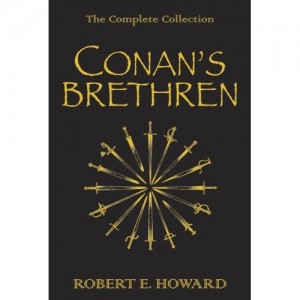 As reported by [redacted], Paradox/CPI is engaged in a trademark dispute with Orion Publishing Group. One of Orion's imprints is Gollancz, which company was scheduled to release Conan's Brethren, a collection of Howard's non-Conan adventure yarns, next month. As just posted by the book's editor, Stephen Jones, Conan's Brethren seems to have gotten pulled into the fight as well:
Note: As a result of a threatened lawsuit over trademark infringement, publication was pushed back until 2010. Although the page sheets were printed, only copies of the export trade paperback were bound-up, and these were not commercially distributed.
This would have to upset some British REH fans. For those haven't heard about this volume before, the table of contents is listed below.
Introduction
Solomon Kane
Solomon Kane's Homecoming (verse)
Red Shadows
Skulls in the Stars
Rattle of Bones
The Moon of Skulls
The Hills of the Dead
The Footfalls Within
Wings in the Night
King Kull
The Shadow Kingdom
The Mirrors of Tuzun Thune
The King and the Oak (verse)
Bran Mak Morn & the Picts
The Lost Race
Kings of the Night
The Dark Man
Worms of the Earth
Savages, Swordsmen & Sorcerers
Spear and Fang
Hawks of Outremer
The Gods of Bal-Sagoth
The Sowers of the Thunder
Lord of Samarcand
The Lion of Tiberias
The Shadow of the Vulture
The Valley of the Worm
The Frost King's Daughter
The Garden of Fear
Gates of Empire
Almuric
The Ghost Kings (verse)
Afterword: Kinsmen of Conan by Stephen Jones