Robert E. Howard: Selected Poems now available from Lulu.com
Sunday, November 29, 2009
posted by Deuce Richardson

Print This Post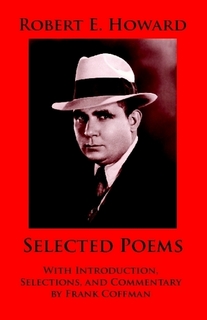 REHupan (and Professor) Frank Coffman now has his Robert E. Howard: Selected Poems ready for online purchase at lulu.com. Here's the info…
Ships in 3–5 business days

A large and representative selection of the poetic work of Robert E. Howard, with a general introductory essay, 30 chapter introductions, and commentary by Prof. Frank Coffman, one of the foremost authorities on Howard's verse and "ways with words."

Three indexes add to the value of this ample selection: by title, by first lines, and a "Form Finder" index to allow quick access to Howard's work with the ballad, the sonnet, blank verse, free verse and other forms and techniques.

Well over half of Howard's more than 700 poems are included in this text, set in a text size and format for presentation that enhances readability and enjoyment. For those who are familiar with Howard's prose fictional works, but who remain uninitiated in the many qualities and nuances of Howard's verse, this compilation and commentary will offer insights into the complexity, quality and breadth of his work. For those who believe they know Howard's poetic work, some new perspectives will broaden their appreciation.