Wednesday, May 13, 2009
posted by Deuce Richardson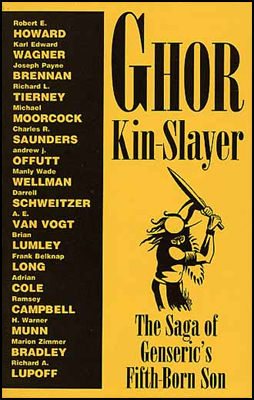 Sometime in the late 1970s, the Rev. Jonathan Bacon (a one-time member of REHupa) came up with a fairly cool idea. Bacon was the editor of Fantasy Crossroads, a Howard-centric fanzine. Through Glenn Lord, Bacon had acquired the Robert E. Howard fragment, "Genseric's Fifth-Born Son" (the title derives from Lord, as far as I can ascertain), a part of the "James Allison" series of reincarnation tales. Bacon thought it would be interesting to bring together many of the active fantasy authors at that time and have them "complete" Howard's fragment in a round-robin fashion. Robert E. Howard himself had participated in something similar when he wrote a chapter for "The Challenge From Beyond," a round-robin tale published by the fanzine Fantasy Magazine in late 1935. In some ways, Bacon was just following a trail that REH had helped blaze. However, he chose to discard the Lord title for the fragment as a title for the entire work, deciding upon Ghor, Kin-Slayer as being a better designation.
A more complete account of how Bacon strove to get all chapters of the collaboration he envisioned published is told elsewhere. It suffices to say that only twelve out of seventeen chapters ever saw print in Fantasy Crossroads, the last being in January of 1979.
Jonathan Bacon then dropped off the map. However, Glenn Lord still retained a complete manuscript of all seventeen chapters. Nearly twenty years later, March Michaud of Necronomicon Press, learning of the complete manuscript, decided that he would publish the entire round-robin tale. Utilizing the editing talents of Rusty Burke, Michaud got Ghor, Kin-Slayer published in August, 1997. I received my copy in early 1998.
Ghor, Kin-Slayer is a chimerical beast, no way around it. The contributors to the tale range from Karl Edward Wagner and Charles R. Saunders to A. E. Van Vogt and Marion Zimmer Bradley. I intend to examine the whole story on a chapter-by-chapter basis. For those of you who tend toward spoiler-phobia, I suggest you stop reading right about now.