Thursday, February 5, 2009
posted by Steve Tompkins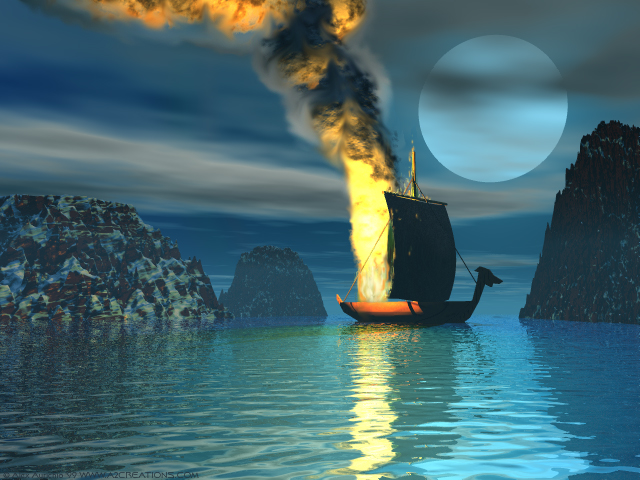 Right about now there are seemingly two kinds of people, those who are already missing TC-as-a-print journal, and those who aren't in a position to miss it, because for reasons best known to themselves they've been missing out ever since the spring of 2004. The good news is, it is still possible to remedy the latter delinquency, to escape the darkling plain where certain ignorant armies persist in clashing by night, by pouncing in a swell foop on the back issues Leo will be selling for a little while longer. The alternative is, I suppose, to repair to a repurposed fallout shelter and read the exciting Princess-Sumia-gets-abducted-yet-again scenes in old Lin Carter paperbacks to one's action figures.
As a student of the American classics, Leo must be feeling a little like Tom Sawyer at the moment, kibitzing at his own funeral. He gave TC a Viking-by-way-of-the-coast-south-of-Kush sendoff with "A Cimmerian Coda" at the end of V5n6, and the motif is reinforced by the seagoing synchronicity of Donald Sidney-Fryer's "A Ship Sails Out to Sea":
The moon came up just as the sun went down,

Leaving behind a blaze, a fiery crown,

A coronal of purple, gold, and flame:

Inside this blaze the ship appeared to drown
Better a coronal than a coronary, nicht wahr? And how perfect that The Last of the Courtly Poets should be The Last Cimmerian Poet as well.