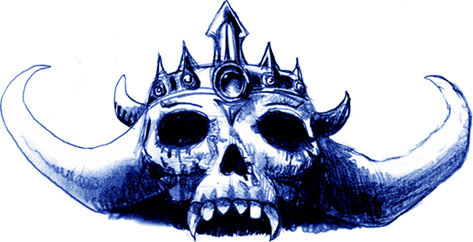 Edited by Leo Grin | Illustrated by Andrew Cryer
40 pages
This issue was printed in two editions. The deluxe edition, numbered 1–75, uses a black linen cover with foil-stamped midnight blue text. The limited edition, numbered 76–225, uses a midnight blue cover with solid black text.
DELUXE COPIES DESTROYED: 5
LIMITED COPIES DESTROYED: 54
Features a detailed analysis of one of the most valuable Howard collectibles in existence, a look at a seminal literary influence on REH, a personal and illuminating reminiscence of L. Sprague de Camp, the story of a remarkable 1985 trip to Cross Plains by a most determined Howard fan, a new poem by James Ruffini, a jam-packed Lion's Den, and more.
EXCERPTS:
"My card index records reflect that in 1937 while traveling in the central area of Texas, I stopped at the home of one of our clients, Dr. I. M. Howard at State Highway 36 in Cross Plains. His wife and son had apparently died the previous year and he was selling many items in the house. These included two Underwood typewriters, which were kept in the son's bedroom, where he worked."
— from "Underwood for the Ages" by Damon Sasser
Since the first translation by Antoine Galland in 1704, there have been dozens of editions, some from the original Arabic, others from Galland's French. Some were scholarly and some were meant for children. The collections vary greatly in terms of both the number of stories and which stories were included. The explorer and linguist Richard Burton compiled over one thousand tales — literally 1001 Nights.
But which version did six-year old Bob Howard own?
— from "Adventure Days and Arabian Nights" by David A. Hardy
"Fanac can be fun, but one would have to be a practicing masochist to enjoy the roasting the REHupans have given me in recent years."
— L. Sprague de Camp, from "The Would-Be Cimmerian" by Ben P. Indick
A few days later Kim drove me to Cross Plains. Just seeing the town sign as we entered the outskirts gave me a tingle down my spine. We eventually located the Howard House, which looked kind of sad and shabby, with peeling paint and an overgrown yard, but nonetheless it was strangely thrilling to me. In hindsight, I cringe with shame at my pushiness when I knocked on the door and cheekily persuaded the owner to let us in so we could look around.
— from "On the Road to Cross Plains" by Chris Green
And that brings me to this: how did de Camp fall off the list of nominees for the Black Circle Award? Not that I have anything against Rusty and Don; but they operate at an entirely different level then de Camp did — if it weren't for de Camp, the two nominated guys would have their fan careers focused elsewhere. He might not win given the political environment he faces; but de Camp can't be overlooked. Sooooo, what happened here?
— Jack Jones, writing in The Lion's Den