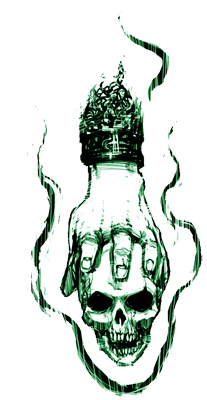 Edited by Leo Grin | Illustrated by Jae Woo Kim
40 pages
This issue was printed in two editions. The deluxe edition, numbered 1–75, uses a black linen cover with foil-stamped emeraude text. The limited edition, numbered 76–225, uses an emeraude cover with solid black text.
DELUXE COPIES DESTROYED: 0
LIMITED COPIES DESTROYED: 49
Features Part One of our comprehensive coverage of the new five-volume set of Howard titles from the Bison Books imprint of the University of Nebraska Press, an article about improving pastiches by Rick McCollum, a special collectible offer for Cimmerian readers direct from Cross Plains, a meaty and contentious Lion's Den, and more.
EXCERPTS:
I originally pitched a collection that I wanted to call Desolate as Eden: Robert E. Howard's New World Nightmares to Rusty Burke as a potential Wandering Star volume many months before I had any inkling of the Bison deal, because The Ultimate Triumph had emboldened me to conceive of a grouping of stories that had in common not a protagonist — yes, Conan would put in an appearance, it being difficult to bar the door against him — and not a subgenre, although there is usually horror in Howard's heroic fantasy and heroism in his horror. Instead, the link would be setting. But westward, look, the land is bright — "Well," the stories demur, "not necessarily."
— from "How the West Was Wondered" by Steven Tompkins
The choosing of each Breck item was limited by several practical considerations. First of all, the tight timeframe precluded using any stories for which I hadn't already prepared a text. Second, there were the needs of new readers to consider. "Mountain Man" was a must, as it introduced the character. Likewise "Guns of the Mountains," as it introduced Cap'n Kidd. "Meet Cap'n Kidd" — a personal favorite — was included to bridge these two stories, the only one of the original stories written for the Gent novel to be included. Then the real tough decision-making started.
— from "A Gent Up Bear Creek" by David Gentzel
How about daily life among the Picts? How much do the Picts recall of their long decline from King Kull's days? Are they stoic, fatalistic, do they view themselves as doomed? What about tribal scars, piercings, tattoos? What would it be like to get them? Dare I ask, circumcision?
— from "A More Sincere Form of Flattery" by Rick McCollum
A couple of years ago a visitor at the museum noticed the old pickets and asked to purchase enough to build a frame for a poster he was buying. The transaction was negotiated and a sale was made. From this an idea was born.
— from "Old Pickets Find New Homes" by Era Lee Hanke
In my judgment, most REH fans, and even scholars, do not appear to have the breadth of knowledge in general literature to make a sound case for REH's literary standing.
— S. T. Joshi, writing in The Lion's Den