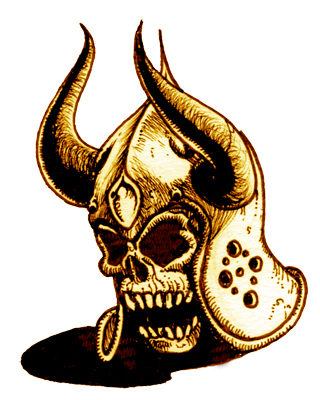 Edited by Leo Grin | Illustrated by Dalmatius
40 pages
This issue was printed in two editions. The deluxe edition, numbered 1–75, uses a black linen cover with foil-stamped gold text. The limited edition, numbered 76–225, uses a gold cover with solid black text.
DELUXE COPIES DESTROYED: 7
LIMITED COPIES DESTROYED: 73
Features a complete textual and photographic report on the Howard-themed 2006 World Fantasy Convention in Austin, Texas, a new poem about Cormac FitzGeoffrey, letters, art, and more.
EXCERPTS:
Early Wednesday morning Rusty, Patrice, and I walked down the street to a local diner for breakfast. As we passed a copse of trees, suddenly dozens — hundreds — of birds descended onto the branches and began making the exact same ominous noises that one can hear in the Thriller "Pigeons from Hell" episode, or in the Hitchcock film The Birds. No joke — I considered it an auspicious omen.
— from "Beyond the Colorado River" by Leo Grin
The Arab host charged the lines, testing the beleaguered flank,
Archers' shafts filled the sky, Saladin cursed the massive Frank.
For though his men got nearer still, they could not break the hold
Of the giant black-haired warrior, a wolf amidst the fold.
— from "The Battle of Arsuf" by Chris Gruber

Special praise is reserved for Richard L. Tierney's "The Doom of Hyboria" cycle of sonnets. There is a special place for sonnet cycles, with classic works such as Donald Wandrei's "Sonnets for the Midnight Hours" and H. P. Lovecraft's "Fungi from Yuggoth." There is also a small but rich history of memorial poetry dedicated to or influenced by Robert E. Howard. "The Warrior" by Emil Petaja and "REH" by Robert H. Barlow go back to the 1930s. Wade Wellman and Walter Shedlosky continued the tradition in the 1960s. Now we have Tierney taking this art form into the twenty-first century. In fact, as far as I can tell, I don't believe there has ever been a whole cycle devoted to heroic fantasy before.
— Morgan Holmes, writing in The Lion's Den