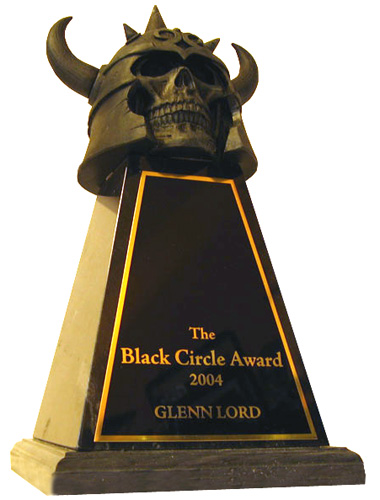 The Cimmerian Awards ran for four years (2005-2008), and were created to recognize excellence in the field of Howard studies. The nominees spanned the whole of Howard fandom. The voters were the readers and contributors of The Cimmerian. Below you can find lists of past winners, along with some historical archives showing the rules and regulations that governed the voting.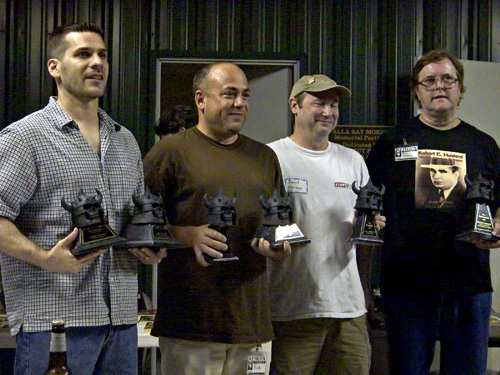 THE WINNERS
2005 Results | 2006 Results | 2007 Results | 2008 Results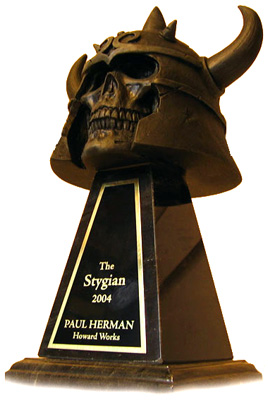 CATEGORIES
The following awards were given out each year in which there were candidates who met the nomination criteria:
The Atlantean — Outstanding Achievement, Book by a Single Author
(for the purposes of this award, a book was any publication which was perfect-bound, over 50 pages, and had a stated intention of being a one-shot item)
The Valusian — Outstanding Achievement, Anthology
(for the purposes of this award, a book was any publication which was perfect-bound, over 50 pages, and had a stated intention of being a one-shot item)
The Hyrkanian — Outstanding Achievement, Essay
(Essays must have made their first public published appearance in the previous calender year. Short interviews, speeches, book introductions, short reviews and other minor works did not count.)
The Aquilonian — Outstanding Achievement, Periodical
(for the purposes of this award, a periodical was any publication which had a stated intention of being a continuous series of items, even if only one issue appeared during the year in question, and even if the periodical's length would otherwise qualify it as a book)
The Stygian — Outstanding Achievement, Website
(Nominees were limited to Internet sites with a main purpose of archiving REH scholarship. Chat groups and e-mail lists did not qualify. To get on the ballot, each website must have updated their content at least once in the past year.)
The Venarium Award — Emerging Scholar
(Nominees had never won a Cimmerian Award before, and in the last year had displayed the beginnings of what could be a movement into the upper echelon of Howard movers and shakers. Any one person could only be nominated for this award once, in the year they made their first big push into the wider world of Howard publishing and scholarship.)
The Black River Award — Special Achievement
(These nominees had produced something special that didn't fit into any other category: scholarly art, biographical discoveries, etc.)
The Black Circle Award — Lifetime Achievement
(Given only sporadically as warranted, The Black Circle of Howard Fandom constituted entering a highly select group of luminaries. To appear on this ballot, nominees must have had at least twenty documented years in Howard fandom and received at least 25% of all votes cast in a past year nominating cycle. The resulting nominees were put on the ballot for a winner-take-all vote. In years where no one had earned a place on the ballot, no award was given. Awards given posthumously went to the Robert E. Howard Museum in Cross Plains, Texas.)
MEMBERS OF THE BLACK CIRCLE
Glenn Lord (2004)
Rusty Burke | Don Herron (2006)
Novalyne Price Ellis (2007, posthumous)
The Crom Award — Editor's Choice
(an occasional award given by the editor for special achievements that did not qualify for other awards and would otherwise have gone unrecognized)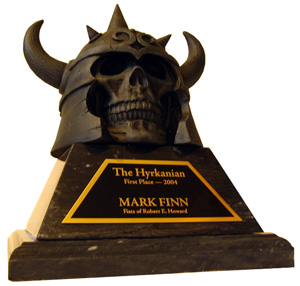 VOTING RULES
Voting is open to all readers of The Cimmerian, with votes distributed on the following weighted scale:
For every issue bought (not including comp copies) – 1 vote
For every letter published – 2 votes
For contributing to the annual Cross Plains coverage or other special trip reports – 2 votes
For contributing an article or poem – 3 votes
The resulting total is the number of votes allocated to each award category. Note that you apply your total votes to each category. For example, if you have 10 total votes, you get to apply ten votes to the book category, ten to the magazine category, ten to the first place essay, ten to the second place essay, etc.
Voters can distribute their group of votes any way they wish for each award. You can choose to place all of your votes with a single nominee, or you can spread them among several nominees in that category.
As for categories, The Cimmerian Awards are sticking with the written word and scholarly subjects. No awards for art, comics, etc. will be given, worthy as they may be of praise. The few exceptions to this are when such works contain true elements of Howardian scholarship; in that case you will find them in the Special Achievement category.
Some categories have years where no viable nominee or winner presents itself. In such cases, no award for that category is given for that year.
Although every effort has been made to find and list all possible nominees for an award, feel free to write-in anything that isn't on this list, as long as it was first publicly published (i.e. outside of REHupa) during the previous calender year.
In categories where there is only one nominee, the nominee still needs your vote. Such people require at least a 60% vote of approval to get the award, a benchmark designed to prevent any truly horrible books from winning an award by default, simply because there was nothing else in that category for that year. So for one-nominee categories who you support, assign your votes to them as APPROVE, or withhold your votes with a DISAPPROVE if you do not feel they are deserving of any award. Any returned ballots with nothing written in such categories will be counted as APPROVE.
As voters, nominees should feel free to vote for themselves if they truly believe that their work was the best in that category for that year. Keep in mind that the votes in this contest are very different than the standard kind of awards, where everyone and his mother gets a vote for free. Each of you did things in exchange for the votes you have received. Each of you earned every one of these votes. They are yours to do with as you will.
Finally, as sponsor of the awards and collator of the votes, editor Leo Grin does not vote.
Voting opens as soon as a list of nominees are posted and announced (usually in January) and closes at the end of February. The winners are then announced at a ceremony during the annual Robert E. Howard Days festival in Texas (held each year on the second weekend in June).
Individual votes are kept in the strictest confidence; only gross aggregate percentages are ever revealed to anyone but myself (at least until after I'm dead and gone and some enterprising fan hunts down my files).
I highly appreciate comments on why you made each vote, which I then use in the special awards issue of The Cimmerian. Anyone who makes comments on their choices receive a free Limited copy of the Awards issue when it comes out.