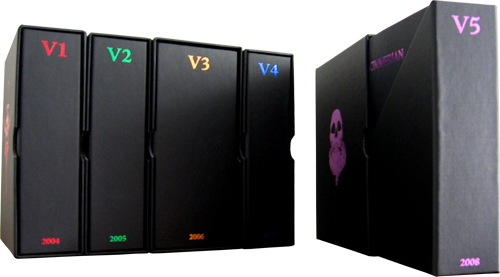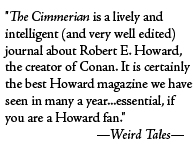 The Cimmerian was started in April 2004 as a scholarly bi-monthly print journal dedicated to the life and writings of legendary pulp author Robert E. Howard. Edited by Leo Grin, TC ultimately ran for five volumes totaling thirty-five issues, and during that time was twice (2006, 2007) nominated for the prestigious World Fantasy Award. The journal finally ceased publication with the December 2008 issue, with editor Grin citing a desire to move on to other writing projects.

Throughout the half-decade the print journal was produced, its subscribers and contributors also voted on The Cimmerian Awards, an annual series of accolades created to recognize excellence in the field of Robert E. Howard Studies. In addition, four issues of The Cimmerian Library were produced, a chapbook series of odds and ends that for one reason or another didn't fit in The Cimmerian proper.
In August 2005, as an adjunct to the print journal then in production, Grin established a weblog on The Cimmerian's site. In the years that followed, the blog grew in influence under the authorship of Grin and fellow Howardists Steve Tompkins, [redacted], and [redacted]. Whereas the print journal focused exclusively on Robert E. Howard, the blog quickly gained a reputation on the Internet as an intelligent clearinghouse for all things fantastic, weird, and adventurous, whether in print or on screen. The blog was frequently cited in the mainstream press, including The Wall Street Journal, AOL News, The Independent, and National Review Online, and became a favorite watering hole for lovers of fantasy literature.
Upon the conclusion of the print journal's run at the end of 2008, Leo Grin handed the blog over to a new group of writers, who proceeded to guide the blog into a post-TC world. The website now claims a primary mandate of not only Robert E. Howard but also J.R.R. Tolkien, along with frequent delving into the literary and cinematic genres of fantasy, horror, and historical adventure.
For information on collecting The Cimmerian (print runs, issue contents, et cetera) click here.