Wednesday, March 18, 2009
posted by Deuce Richardson
"Saint Padraic's Day usually leaves me with a distaste for the whole Celtic Irish race." Robert E. Howard, from a letter to Harold Preece, ca. early April, 1930.
Howard's Hibernophilia is hard to contest, but reading the above quote might cause one to wonder. In context, the meaning becomes much clearer.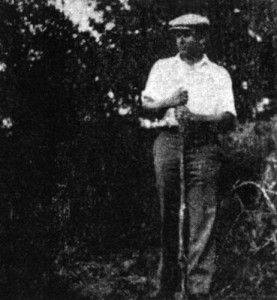 REH (whose photo to the left could easily be that of a "Black Irish" workman of the early twentieth century) noted the "questioning glances" of fellow Texans "who wear purely Gaelic surnames." His response to such affronts was that, "I'll wear the green if I have to fight every damned Celt in the world." A suitably pugnacious Howardian (and Celtic) attitude, in my opinion.
Howard was always ambivalent in his regard for the Irish. In another letter to Preece, REH wrote, "Damn the Irish and damn the black Milesian blood in my veins that makes me like drift-wood fighting the waves and gives me no peace or rest waking or sleeping or riding or dreaming or traveling or wooing, drunk or sober, with hunger or slumber on me". Again and again REH railed against the waywardness and instability that he saw in the Celtic psyche. "What has my Celtic blood ever done to me but give me a restless and unstable mind that gives me no rest in anything I do"? Obviously, despite Robert E. Howard's heart-felt pride in his Irishness (the true extent of that Irishness is something Patrice Louinet is researching even now), he didn't view Erin nor her children through green-tinted glasses, at least not in every instance. (Continue reading this post)