Tuesday, September 2, 2008
posted by Steve Tompkins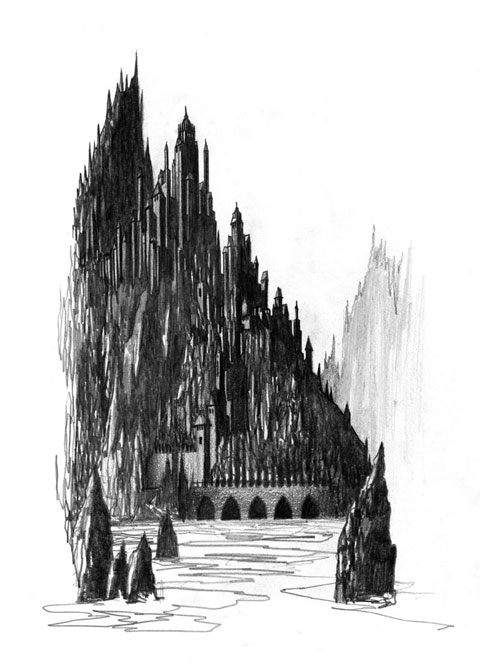 Decades later it remains a fiendishly effective piece of stage-setting:
For ten thousand years did the Bright Empire of Melnibonè flourish — ruling the world. Ten thousand years before history was recorded — or ten thousand years after history had ceased to be chronicled. For that span of time, reckon it how you will, the Bright Empire had thrived. Be hopeful, if you like, and think of the dreadful past the Earth has known, or brood upon the future. But if you would believe the unholy truth –then Time is an agony of Now, and so it will always be.
Ravaged, at last, by the formless terror called Time, Melnibonè fell and newer nations succeeded her: Ilmiora, Sheegoth, Maidakh, S'aaleem. Then memory began: Ur, India, China, Egypt, Assyria, Persia, Greece, and Rome –all these came after Melnibonè. But none lasted ten thousand years.
And none dealt in the terrible mysteries, the secret sorceries of old Melnibonè. None used such power or knew how. Only Melnibonè ruled the Earth for one hundred centuries — and then she, shaken by the casting of frightful runes, attacked by powers greater than men, powers who decided that Melnibonè's span of ruling had been overlong — then she crumbled and her sons were scattered. They became wanderers across an Earth which hated and feared them, siring few offspring, slowly dying, slowly forgetting the secrets of their mighty ancestors. Such a one was the cynical, laughing Elric, a man of bitter brooding and gusty humour, proud prince of ruins, lord of a lost and humbled people; last son of Melnibonè's sundered line of kings.
Elric, the moody-eyed wanderer — a lonely man who fought a world, living by his wits and his runesword Stormbringer. Elric, last lord of Melnibonè, last worshipper of its grotesque and beautiful gods — reckless reaver and cynical slayer — torn by great griefs and with knowledge locked in his skull which would turn lesser men to babbling idiots. Elric, moulder of madnesses, dabbler in wild delights. . .
Very cool indeed. The temporal indeterminacy (borrowed by Robert Jordan?) makes for extra hauntingness, while in the insistence that "Time is an agony of Now" — such a Sixties sentiment — the reader can almost feel the tremors of the coming youthquake. And the "powers greater than men" who step in so banefully, do they echo the Olympians' animus against Atlantis?