Monday, February 12, 2007
posted by Leo Grin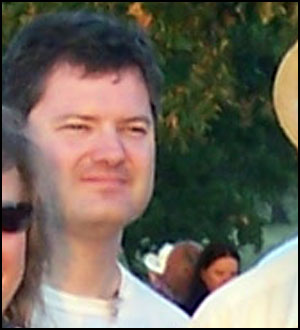 Guest blogger Morgan Holmes offers his own take on the pros and cons of the Lancer series….
MORGAN HOLMES: Leo's post contrasting the Lancer and Del Rey editions was the latest in an ongoing debate of what is or was the best Robert E. Howard edition. I had been thinking for some time why the Lancer paperbacks had such an impact that later book editions never were able to duplicate.
There were advantages that Conan the Adventurer had in 1966. First was suppression of Sword-and-Sorcery fiction. It was something new to most people in 1966. Sword-and-Sorcery fiction was rare for fifteen years. In the early 1950s, you could still find Robert E. Howard influencing stories in pulps such as Poul Anderson's "The Virgin of Valkarion" in Planet Stories. The pulps were meant to be cheap entertainment. In the early 1950s a copy of Planet Stories cost $.25, thus within the reach of a young reader. The last pulp science fiction magazines also died in 1955 when the distribution system collapsed. Science fiction was also king in the 1950s, driving fantasy and horror figuratively underground.
The Gnome Press editions of Robert E. Howard started in 1950, but Gnome was a small press. Most of its business was direct mail order or from specialty mail order book dealers. Plus the Gnome Press hardbacks were $3.00-$4.00. In today's dollars, $3.00 would be $22.65. These books were aimed at older fans wanting the stories in book form. The small print runs would prevent creating many new ones. A teenager would have to save up in order to get a Gnome Press book in the 1950s, provided he knew of them or ever heard of Robert E. Howard.
The baby boom started in 1946 and ended in 1964. That means you had a growing population in their teens — the prime group for buying fantasy fiction. The mass-market paperback had stepped in as the replacement for the pulps as a source of inexpensive fantastic fiction. There was a massive rebirth of Edgar Rice Burroughs in paperback in 1963 when it was discovered copyright was not in effect for those stories. Ace Books published wonderfully packaged books with covers by Roy Krenkel and Frank Frazetta.
Just months before the release of the Lancer Conan was another important event that helped prime the pump. Ace Books discovered a copyright loophole and published The Lord of the Rings with Jack Gaughan covers. Ballantine Books published the authorized editions in 1966 with the psychedelic flamingo covers. Burroughs and Tolkien were major factors in preparing the scene for Howard. Plus you had two of the L. Sprague de Camp edited anthologies, Sword and Sorcery (1963) and The Spell of Seven (1965) that would have introduced some readers to Robert E. Howard for the first time. There were no trade paperback science fiction books, as trade paperbacks were mainly meant for the college market.
The Lancer paperbacks were for the most part sold in drugstores and some grocery stores. You did not have the bookstore chains like you do today. There were regional distributors who supplied paperbacks to the places that sold the books. A regional distributor knew that one place might sell more westerns and mysteries while another might move science fiction paperbacks. In some ways, the Lancer paperbacks may have been available in more places than the average paperback would today. Someone going to the drugstore to get the newest issue of Eerie or Creepy would have stumbled across the now iconic image of Conan as created by Frank Frazetta.
Then there is the question of cost. The first Lancer paperbacks were $.60, going to $.75 and then $.95 in 1968. Sixty cents in 1966 would convert to $3.81 today! That is incredible — science fiction and fantasy paperbacks are $7.99 today. That would convert to $1.25 in 1966. So the Lancer paperbacks were a great deal. More so, the minimum wage in 1966 was $1.25 an hour. That converts to $6.83 an hour today. Western writer and Robert E. Howard fan, James Reasoner, once told me that mass-market paperbacks should cost one hour at the minimum wage. Paperbacks are often an impulse item. The higher the cost, the more a potential buyer has to agonize if that book is worth it. In 1966-67, a teenager working a few hours a week could stop at the local drug store and pick up a Lancer paperback and still have money to pick up the latest 45 record like "Strawberry Fields Forever" or "Ruby Tuesday."
There were some other factors — horror had made a comeback by the 60s after having a low profile in the 50s. Our theoretical teenage buyer could see the latest Hammer horror flick before picking up Conan the Adventurer. What impact did the Italian sword & sandal movies have, the ones starring Steve Reeves or Gordon Scott, and all those Hercules/Maciste/Samson/Goliath movies?
So, you have an intersection of demographics, cost, distribution, interest, and of course the Frazetta look that combined to create something that will probably never occur again. The nearest you could get today to recreating what the Lancer Conan paperbacks would be to have Leisure Books publish Robert E. Howard at $4.99 (price of their westerns) with distribution to truck stops and grocery stores. Plus you need an artist to create something totally new, and there is only one Frank Frazetta. Why are western paperbacks $4.99 but science fiction and fantasy paperbacks $7.99?