Wagner October Reprise
Saturday, October 31, 2009
posted by Deuce Richardson

Print This Post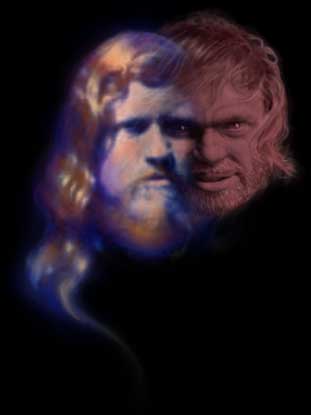 It has been quite a month for fans of Karl Edward Wagner. For days following the dawn of October 13, there were memorial pieces posted all over the Internet, testifying to KEW's continuing, vibrant legacy. We here at The Cimmerian did our part.
John Mayer, a life-long friend of Wagner's, along with other devotees of the Man From Knoxville, did his part as well. Mayer organized a gathering at Patrick Sullivan's, a venerable Knoxville drinking establishment, to discuss organizing and promoting a yearly horror festival with Wagner as the focal point. Apparently, fans from far and wide attended. A write-up in Metro Pulse, an online "alternative arts and entertainment weekly covering the Knoxville area," can be found here.
On the same day that the "Is Knoxville Ready for a Karl Wagner Horror Festival?" article ran, Metro Pulse also posted "The Dark Muse of Karl Edward Wagner" Parts 1 and 2. In it, Mayer summarizes KEW's life and career. Between the three articles, all published on October 28, that is a lot of coverage for an author who is still little-known to the general public.
*My thanks to Martin Andersson for the heads-up.