Fabrice Tortey wins Le Grand Prix de l'Imaginaire
Sunday, November 1, 2009
posted by Leo Grin

Print This Post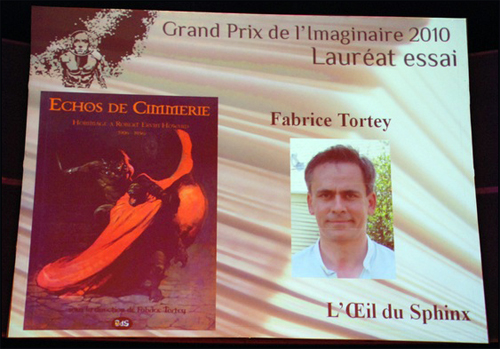 Back in this post I clued you in that a pair of French Howard books, Les nombreuses vies de Conan (edited by Simon Sanahujas) and Échos de Cimmérie (edited by longtime Cimmerian subscriber Fabrice Tortey) were among the nominees in the "Essay" category for Le Grand Prix de l'Imaginaire, a prestigious French award dedicated to Sci-fi, Weird & Fantasy fiction. Well, the results are in, and Fabrice's Échos de Cimmérie took home the loot.
Here's Fabrice (right) holding up his award certificate with his REH pal, runner-up Simon Sanahujas, playing the good sport.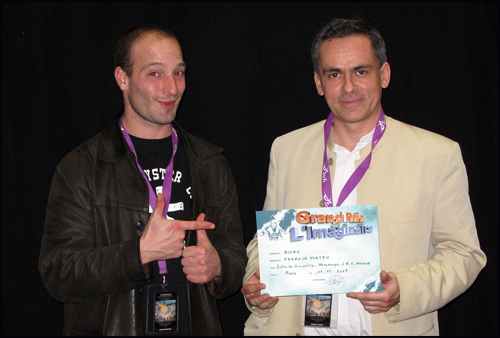 Those of you who went to Robert E. Howard Days in Cross Plains last June were able to meet Fabrice — and if you subscribed to the print Cimmerian you've already read a trio of the essays from Échos de Cimmérie in English translation — so you know how both editor and book were eminently award-worthy. Congratulations to Fabrice for striking such a solid blow for Howard scholarship in France.