The Romantic Primitive Debunked
Thursday, July 20, 2006
posted by Leo Grin

Print This Post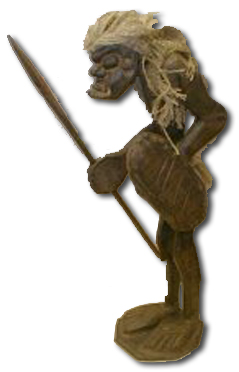 Conservative columnist Mark Steyn has been reviewing books for the popular Canadian magazine Maclean's for several months now, and his latest piece focuses on a book that will be of interest to Howard fans.
Before the Dawn: Recovering the Lost History of Our Ancestors by Nicholas Wade posits the argument that primitive societies were far more warlike and brutal than modern historians and sociologists give them credit for. By the end, when Steyn mentions Civilization and Its Enemies: The Next Stage of History by Lee Harris, it feels as if the shade of Robert E. Howard is guiding the keystrokes.
I'm hard pressed to think of an author with a more visceral, hypnotic expression of these themes than Robert E. Howard. Others come close — Jack London hits many of the same nerves in The Star Rover, Before Adam, and The Sea Wolf, not to mention a host of short stories such as "Love for Life" and "An Odyssey of the North." But Howard had a way of making the unfathomable brutality of the past come to life that I have never seen matched. As he wrote to Harold Preece (a quote that [redacted] recently added to this site's REH quote generator):
I mean my characters are more like men than these real men are, see. They're rough and rude, they got hands and they got bellies. They hate and they lust; break the skin of civilization and you find the ape, roaring and red-handed.
Those of us who lament the dearth of novels in Howard's output would be wise to consider to what degree the short story format helped distill and hone this artistic statement in ways difficult to do at novel length. Too often we wish that Howard wrote longer stories or provided more characterization, without realizing that perhaps these "weak spots" in his writing are a necessary adjunct to the most powerful elements. Add more exposition, and perhaps all of the raw power and unbridled momentum would be lost, leaving Howard as just another middling, lukewarm author.
One of the reasons Howard has remained so relevant as an author and artist is because his most passionate themes are so universal that seventy years haven't aged them at all. Even when plot elements hinge on now-debunked science, the basic soundness of his worldview remains. He engaged in harrowing tales of war and rapine at a time when unfettered violence was far more shocking and frowned upon than it is now, and frequently risked rejection for his single-minded focus on such things to the exclusion of all else. But his contemporaries' revulsion is our gain: while other authors frequently recede with the passing of years, trapped in the amber of their time and place, REH's achievement only glows brighter. It seems that hardly a day goes by without me being struck by the application of Howard's thoughts on the barbaric nature of mankind to something in the news.
I'm convinced that someday, with the right criticism and films and reprintings, Howard will become well known enough to be mentioned and quoted in such articles as Steyn's — a prophet of primitivism in this uncertain age of teetering civilizations.