The REH-themed World Fantasy Convention
Friday, July 21, 2006
posted by Leo Grin

Print This Post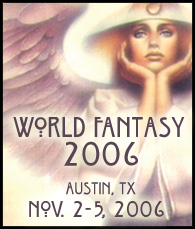 As I rush to finish the July issue of The Cimmerian in time to call it a "July Issue," I find myself not only remembering the stellar first half of the centennial, but also looking forward to the rest of the year. The cornerstone of the next six months will be the World Fantasy Convention in early November. It's being held in Austin this year, a scant two and a half hours from Cross Plains, and Howard has been chosen as the theme of the convention. If you missed the January birthday bash and the June Howard Days spectacular, perhaps you can make this last Howardian blowout of the year.
For information on the event, head on over to the website set up by the Fandom Association of Central Texas (F.A.C.T.), the hosts and planners of the festivities. There you will find information on registering for the Con, booking hotels, special guests, the Howard bus tour to Cross Plains, and more. If you haven't read it yet in the Dark Horse Conan comic book, you can download and peruse [redacted]'s short biographical treatment "Robert E. Howard: Lone-Star Fantasist."
In addition to panels about REH, the show will feature Glenn Lord and Howard artist Gary Gianni, as well as the debut of [redacted]'s new biography Blood and Thunder: The Life and Art of Robert E. Howard. Howard fans scheduled to attend include Finn, Rusty Burke, Steven Tompkins, and Darrell Schweitzer among others. Lots to see and do, lots of friends to meet, lots of Howard to discuss and appreciate. As this is a professional con, you will also get to meet many of the authors and editors you have been admiring for years. And hey, if you've never been to Cross Plains or Howard Days, here's your chance to take the bus tour and kill two birds with one vacation.
If you are planning to go and want to carpool or share a room, your best bet is to post on the major Howard email lists: Dennis McHaney's REH Inner Circle and Terry Allen's REH Comics Group. Room rates at the Renaissance Hotel (where the con is being held) are fairly steep, even at the convention rate, so if price is an issue search around for one of the many hotels close by — rates at those places can run up to half as cheap.