Houston: No Problem Whatsoever
Sunday, November 15, 2009
posted by Deuce Richardson

Print This Post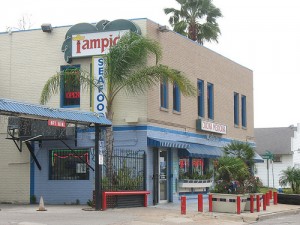 Yesterday, Glenn Lord's (early) birthday was celebrated in style at Tampico Seafood and Cocina Mexicana in Houston. The Cimmerian advised the REH faithful about the event several weeks ago. Now the preliminary reports are starting to trickle in on the TC ticker-tape.
Paul Herman (master of ceremonies) just posted this over on the Official Robert E. Howard Forum:
Glenn's party went very well. Maybe 15 folks total, on a beautiful day to be sitting out of doors on the upper deck patio of a great Mexican seafood restaurant. What a group! Patrice Louinet and Fabrice Tortey from France, [redacted] from California, Dennis McHaney from Austin, Damon Sasser from Spring, TX, Crossplains Pilgrim and his blushing bride. Even a Paradox lawyer! Glenn made out like a bandit, with a very sizable sum collected (big thanks to the REHupans!, among others) to go towards rebuilding his house in Pasadena damaged by Hurricane Ike last year. Everyone stayed for hours after dinner, just talking as a group about REH. Dennis brought along some extra goodies.

I think everyone had a wonderful time, especially Glenn and his family.
As you might have noticed, The Cimmerian was represented by our own [redacted]. Also on hand was Texan REH fan, Steve "Crossplain Pilgrim" Seale, one of the newly-minted moderators over at conan.com. Here's what Mr. Seale had to say…
What a night. It was a real thrill to meet Glenn, such a nice man and living legend of REH history, and, of course, his lovely wife. Paul Herman was an energetic, warm and witty host. Between him, Patrice Louinet and Fabrice Tortey (all the way from France), Dennis McHaney, and Damon Sasser the dinner conversation was pleasant, engaging, and a gold mine of REH information. It was, however, a little daunting to toss around your views on REH in such prestigious company. I was especially pleased to meet [redacted] from California. What a bright and vivacious lady. All in all, great food, a cool Fall evening, wonderful companions…a wonderful night.
All in all, it sounds like a fine celebration for a man all Howard fans should honor. Glenn officially turns seventy-eight years young this Tuesday. Cards can still be sent to:
Glenn Lord
PO Box 775
Pasadena, TX 77501
USA
Also, as Paul Herman mentioned, Mr. Lord could use a little help repairing his house. Donations can be sent via the eminently trust-worthy and steadfast  Damon Sasser by one of two methods:
PayPal:
dcsasser "at" yahoo.com
Checks or Money Orders:
Damon Sasser
6402 Gardenspring Brook Lane
Spring, TX 77379