Echoes of Cimmeria available for pre-order
Tuesday, January 15, 2008
posted by Leo Grin

Print This Post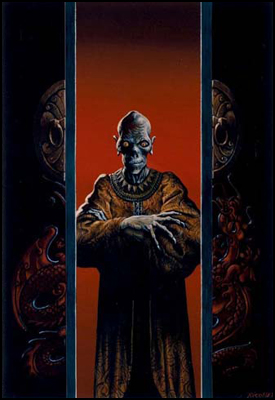 Cimmerian reader Fabrice Tortey hails from France, and for the last few years he's been working steadily on a massive tribute volume to Robert E. Howard. That project is now reaching fruition. Bringing together a generous mix of Howardian luminaries from both sides of the pond, he has assembled a wide-ranging collection of material and added lots of pictures and illustrations. American stalwarts Glenn Lord, Don Herron, Rusty Burke, and others appear alongside French counterparts such as Jacques Bergier, along with other assorted folks such as the inimitable Donald Sidney-Fryer, a scholar facile in both languages. Of course Robert E. Howard himself is represented, and some of those items have never before appeared in that language. The book itself is all in French, but the result is nevertheless bound to entice many collectors from this side of the pond, too.
You can download the official order form here in PDF format (400k file). Note that you can become a "subscriber" by pre-ordering before March 31, 2008. This gets you a numbered copy of the book, along with your name listed on a special page inside the volume.
For those of us wanting to read some of this material in English, take heart: The Cimmerian is on the case.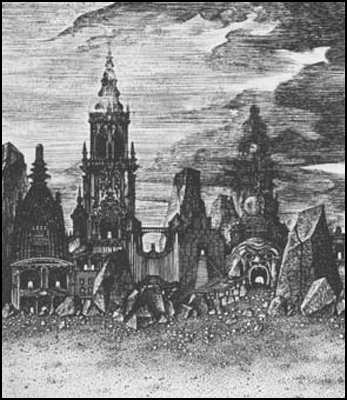 ÉCHOS DE CIMMÉRIE
HOMMAGE À ROBERT ERVIN HOWARD
1906 – 1936
(ECHOES OF CIMMERIA, HOMAGE TO ROBERT ERVIN HOWARD)
A book edited by Fabrice Tortey

Solomon Kane, El Borak, Bran Mak Morn, Kull the Barbarian King, Conan the Cimmerian and many other characters, all unforgettable creations that sprang from the fertile mind of Robert Ervin Howard. A pioneer of heroic fantasy, the Texan writer has excelled in many genres: tales of adventure, fantasy and horror, sports and western stories, poetry… At the time when Two-Gun Bob finds a second life in France, the Éditions de l'Œil du Sphinx are pleased to pay homage to Robert E. Howard and display his many facets as the man, the boxer, the storyteller, the poet.

Renowned specialists and dedicated fans of Howard have all gathered to explore the epic universe of the Cross Plains Bard. This opus, under the direction of Fabrice Tortey, opens on an overview of Robert E. Howard's life, completed by more specific biographical studies by acknowledged experts such as Rusty Burke with La dernière lettre / The Note, Glenn Lord with Herbert Klatt : le quatrième mousquetaire / Herbert Klatt : the Fourth Musketeer and The Junto, or Chris Gruber who shares with us his passion both for boxing and the creator of Steve Costigan in Howard et la fabrique de glace / Howard at the Ice House

Four texts of Robert E. Howard are published here for the first time in France: two fragments (Le Tueur / The Slayer; Sous l'éclat impitoyable du soleil… / Beneath the Glare… ) and two poems (Les Cellules du Colisée / The Cells of the Coliseum et Comme un bruit sourd à ma porte / A Dull Sound as of Knocking). Introduced by Don Herron, a series of essays analyzes different aspects of the Texan's opus : Le Sens du récit chez Robert E. Howard / The Narrative Sense of Robert E. Howard by Simon Sanahujas, Bob Howard ou le pouvoir du regard intérieur / Bob Howard or the power of the inner look by Argentium Thri'ile, Robert E. Howard : pionnier des lettres/Robert E. Howard: Frontiersman of Letters by Donald Sidney-Fryer, Conan, Kull et Bran Mak Morn : les rois de la nuit / Conan, Kull et Bran Mak Morn: the Kings of the Night by Patrice Louinet, Kings of the Night : Une allégorie shakespearienne ? / Kings of the Night : a Shakespearean allegory? by Pierre Favier, Le Phénix sur l'épée et autres fulgurances. Une lecture spirituelle du cycle hyborien de Robert E. Howard / The Phoenix on the Sword and other blinding flashes. A spiritual reading of Robert E. Howard's Hyborian cycle by Rodolphe Massé, Solomon Kane and Face à Cthulhu : le club des aventuriers de Robert E. Howard / Facing Chthulu : the Adventurer's Club by Patrice Allart, Solomon Kane et le racisme : une étude en noir et blanc / Solomon Kane and racism : a study in black and white by Olivier Legrand, Des rites impies de sadisme et de sang. Le réveil de l'archaïque chez Howard, Lovecraft et Vere Shortt / An unhallowed ritual of cruelty and sadism and blood: The revival of the archaic in Howard, Lovecraft and Vere Shortt by Michel Meurger, Un nouveau monde, ou l'Almuric de Robert E. Howard / A New World, or the Almuric of Robert E. Howard by Rémy Lechevalier and Jacques Bergier, ou l'homme qui découvrit aussi Robert E. Howard / Jacques Bergier, or The Man Who Also Discovered Robert E. Howard by Joseph Altairac.This thick volume is concluded with a bibliography of Howard's works published in France, compiled by Simon Sanahujas. Many photographs of Bob Howard, his family and friends, open for us a vista of a past cut short all too soon.

This anthology also contains the works of Howard's main illustrators in France : foremost is Christian Broutin, with his drawings for "Phoenix on the Sword" in Planète magazine, then Philippe Druillet who illustrated Conan for Édition spéciale, and of course Jean-Michel Nicollet whose covers for Titres SF and the Nouvelles Éditions Oswald have been the French readers' companions in their discovery of Two-Gun Bob. The cover is by the great american illustrator Frank Frazetta.

Softcover, 22.5 x 17 cm, text in French, about 400 pages

SUBSCRIPTION FORM

TO BE PUBLISHED 2nd QUARTER 2008
LAST NAME : …………………………………………………………………………………
FIRST NAME : …………………………………………………………………………………
ADDRESS : ………………………………………………………………………………………
CITY : ……………………………………………………. POSTAL CODE : …………………
Phone : ………………………………………
Email : ………………………………………

I subscribe to ……. copies of Échos de Cimmérie, hommage à R.E. Howard, a collection edited by Fabrice Tortey and to be published by Éditions de l'Œil du Sphinx at 35 € per copy. Shipping (Priority Rate) is 8.50 € for European Union Countries and Switzerland, 10.50 € for USA and Canada. For other destinations, please contact the Publisher.

Date and place : ……………………………………………………………..

Signature : ……………………………………………………………………

Payment can be made by PayPal (ods@oeildusphinx.com) or by International Money Order to Éditions de l'Œil du Sphinx.

Please return this subscription form completed and signed at :

LES ÉDITIONS DE L'ŒIL DU SPHINX
36-42, rue de la Villette
75019 PARIS, France

Once published, the book will also be made available for direct sale (Credit Cards accepted) by Librairie Atelier Empreinte (http://www.atelier-empreintefr/).
The Subscribers' copies will be numbered, and their names will appear in a list on the top page of the book.

Subscription ends on March 31st 2008

LES ÉDITIONS DE L'ŒIL DU SPHINX
36-42, rue de la Villette
75019 PARIS, France
Tél 08.75.32.33.55
Fax 01.42.01.05.38
Email ods@oeildusphinx.com
Web www.oeildusphinx.com