Basil Poledouris, R.I.P.
Friday, November 10, 2006
posted by Leo Grin

Print This Post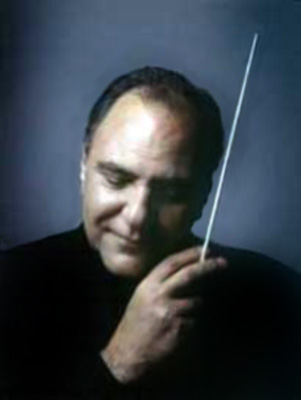 One of the greatest film composers of all time has been felled by cancer. Basil Poledouris (1945-2006) leaves us with some of the most stirring and evocative music ever written for the screen, including Conan the Barbarian, Lonesome Dove, The Hunt for Red October, Robocop, The Blue Lagoon, Free Willy, Farewell to the King, Quigley Down Under, Cherry 2000, and Flesh and Blood. He specialized in crafting A-list music for B and C-list movies, and he did most of the scores for one of the favorites of this blog, John Milius. Friends of mine in the industry and out have always reported how generous he was with time, advice, and encouragement, and his interviews in print and on DVDs were always learned and perceptive. In a town that too often lives up to the appellation "Hollyweird," Poledouris was one of the good guys. The age of sixty-one was way too early to leave us, and he will be missed by all who value film music at its best.
Conan the Barbarian is a film that elicits varied reactions from fans of Robert E. Howard, but I think it is indisputable that the film's soundtrack is one of the best ever written, with an influence among film composers rivaling the influence of Frazetta on art. Its main theme is instantly recognizable and has been co-opted for all manner of people and events. What is less appreciated is how lush and romantic and nuanced the score is, with many quiet themes that sweep you away as if on a cold wind through a lost age. Poledouris recorded the score in Italy and modified the orchestra with a variety of barbaric-sounding instruments and percussion, which lends the music a tinge of antiquity and exoticness that never fails to thrill me. Many of Poledouris' lesser-known scores build on the achievement of Conan the Barbarian and offer potent treasures for lovers of such music. Farewell to the King and Flesh and Blood especially owe a lot to the earlier score.
Poledouris' commentary on the Conan the Barbarian DVD is one of the high points of the disc, and he avoids all of the unseriousness and misinformation that mars too much of the contributions of Milius and Schwarzenegger. He has also been featured in fascinating interviews in publications like Film Score Monthly. I always thought Poledouris deserved far better than the career he had, as brilliant as that career was. Many of his very best scores were for movies that barely rose above the level of dreck, and I wonder what he would have done with some of the non-action blockbusters of the eighties and nineties, the kind of films that too often went to lesser composers secure in their blandness. The few times he was able to cut loose in a film of real quality, such as Lonesome Dove, he was astounding (for that one he won a well-deserved Emmy).
It is sad that there will be no more music coming from such a talent, but thankfully every year more of his older work is released for us to savor. Basil Poledouris was a giant in the field, and his legacy will not soon be forgotten.