Wikidiots
Tuesday, September 30, 2008
posted by Leo Grin

Print This Post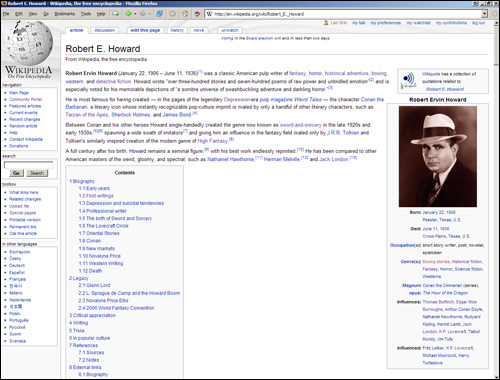 I've just about given up on REH's Wikipedia page, as it's nigh impossible to keep up with all of the stupid and destructive edits being inflicted on otherwise good text.
One guy recently stumbled onto the page and promptly deleted key sentences in the heavily footnoted opening, with the explanation that they were "too POV" for Wikipedia. He then proceeded to delve into the footnotes and edit direct quotations from books that were excerpted, deleting whole sentences without any ellipse or other signal that the quote had been tampered with.
Another guy deleted the sentences that said, "H. P. Lovecraft was severely affected by the death of his friend, and within a year would die himself of intestinal cancer. Clark Ashton Smith (the third member of the great triumvirate of Weird Tales) was stricken by the deaths of Howard and Lovecraft as well as those of his own parents, and soon stopped writing fiction himself, fading from the scene," explaining that he had "Removed unsourced suggestion that Howard's death caused Lovecraft's cancer and Smith's giving up writing." Caused Lovecraft's cancer? How can you fight off an endless assault from guys who can't even properly read what is before their eyes without grossly misinterpreting clear declarative sentences.
When I get time I am going to post somewhere other than Wikipedia the original, un-Wikidioted version of that Robert E. Howard entry, and perhaps expand it over time into a decent biographical sketch. Somewhere it will be safe from mass attrition, relentless banalization, and general dumbing down.