The Whole Wide World finally comes to the UK
Monday, February 18, 2008
posted by Leo Grin

Print This Post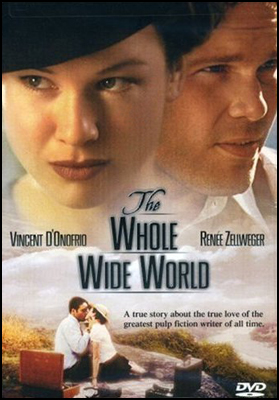 British Cimmerian reader Chris Green offers up the following news tidbit for REH completists on this side of the pond:
Just thought I would let you know that the first ever U.K. DVD release of The Whole Wide World just went on sale today, Feb 18. It's available from Amazon U.K. The movie never received a theatrical release over here and Howard fans simply had to make do with taped versions from the handful of TV showings which turned up at (very) odd times. Maybe REH completists might like to know of this potential acquisition. It's a shame there's no extras or commentary, though, especially as the case depicts what appears to be a deleted scene.
So this release at 107 minutes is comparable to the US release currently in general circulation at 106 minutes, albeit without the commentary and extras. Someday we'll get a deluxe edition with the deleted scenes (of which there are more than have ever been seen on any format — Michael Scott Myers once told me that the long scene filmed with REH and Novalyne arguing about racism is a real highlight).