The Dungeonmaster Has Died
Tuesday, March 4, 2008
posted by Leo Grin

Print This Post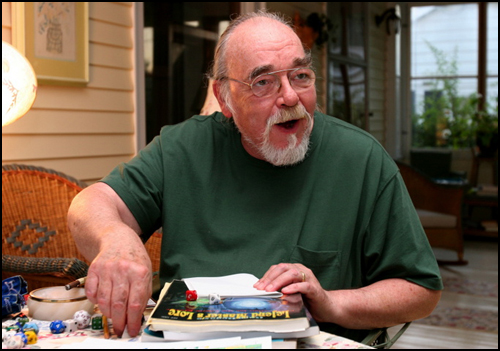 Gary Gygax, 1938–2008
(hat tip: Jonah Goldberg and John J. Miller at NRO and Will Greenwald at Crave)
One of the seminal influences in fantasy in the twentieth century has left us for Valhalla. Gygax was a giant, a man whose enthusiasm and sense of adult play took a weird cerebral offshoot of board and strategy games and turned it into an accessible, endlessly stimulating, life-changing mythology for the Star Wars/Lancer Conan/"Frodo Lives!" generation of the 1970s and 80s. Those of us who risked life, limb, and reputation carrying our Player's Handbooks and Monster Manuals cover-out through the hallways of Catholic school owe to him a large part of our imagination and happiness during those years.
As expressed in Bill Cavalier's Gygax-heavy "The Other REH Days" in The Cimmerian V4n5, Gary created his game out of a host of fantasy influences, many of them writers long since forgotten in modern circles, and as a result D&D had the effect of introducing a whole new generation to the likes of REH, Leiber, Vance, and (despite Gygax's protestations) Tolkien. I discovered D&D on the same Boy Scout camping trip that introduced me to The Two Towers, and life has never been the same since. And although I haven't played the game since high school over twenty years ago, in terms of cultural and imaginative influence it has never been far from my mind. It was D&D that led me to fantasy as a genre, D&D that lured me to films like Conan the Barbarian and Excalibur and then to Robert E. Howard and classic mythology, D&D that forged for me the best friendships of my youth, D&D that spurred me to want to write and create in the realms of the magical and fantastic. For better or worse — let us be charitable and say mostly for the better — D&D is responsible for many of the tropes of modern fantasy literature. The open-ended nature of role-playing campaigns surely trained readers to crave longer and more numerous books than Tolkien's trilogy, and the mashing together of various styles within a D&D game had much to do with the way later authors developed their fictional worlds. More than a few writers began their successful book series not as short stories or outlines but as D&D campaigns, with worlds and heroes built up over many years of gaming before ever being set into prose.
I met Gygax just once, at Gen Con in 1987. At the time he was on the outs in the industry, having been effectively shit-canned from his own company, TSR, and forced to eke out his role-playing living developing new, ultimately unsuccessful games on his own, trying vainly to make cultural lightening strike twice. Painfully shy but I suppose somewhat less so than many in the Milwaukee Convention Center on that day, I walked up to him and proffered a copy of his novel Sea of Death for autographing, mumbling something about how much I liked it. He was warm and gracious, and if I had possessed any social skills in those days I may have struck up a conversation about any number of subjects. But I didn't — I ran back to my Mom and walked away, leaving him sitting there alone in a Hawaiian shirt, just another booth guy watching the teeming hordes of teenaged boys and older ex-hippies walk by, a king invisible in the kingdom he built. Things got better for him in his later years, as TSR was rescued from its suicidally bad post-Gygax management, and both it and Gen Con fell into the arms of people — Peter Adkison prime among them — who understood the peculiar imaginative alchemy which lies at the heart of D&D's appeal, and who greatly respected the mind of the man who had conjured it into a post-Vietnam America, an America that in hindsight desperately needed it.
There doubtless will be memorials galore for Gygax throughout this year, culminating at Gen Con in August, but I had to get this little paean out as soon as I heard the news. William Buckley, the founder of National Review, died last week. It's not out of line to say that Gygax was the WFB of fantasy, a guy who never ran for president or fought a world war, but whose vision and philosophy made a movement out of vast groups of scattered and disheartened peoples, one gamer–one author–one visionary at a time. "The material is herein," Gygax wrote in his Introduction to the first edition of The Dungeon Master's Guide, "but only you can construct the masterpiece from it." Ever enticing, ever encouraging, ever dreaming the boldest and bravest dreams. That is the legacy of Gary Gygax, and it lives in the hearts of millions of people around the world.
UPDATE: If you'd like to send your regards and well wishes to the Gygax family, their friends have set up an email account at InMemoryOfGaryGygax@gmail.com. (hat tip: Scott Oden)
UPDATE II: The New York Times ran a good obit that was smart enough to mention Robert E. Howard in the same breath with Tolkien as the major precursors to D&D.
UPDATE III: John J. Miller at National Review Online calls this Gygax post "a wonderful tribute," Tigerhawk says it's "a very evocative remembrance," the AOL Political Machine's Justin Paulette considers it "a notable obituary," and Howard Jones, managing editor of the best fantasy fiction magazine publishing these days, Black Gate, has picked it up as part of a Gygax symposium due to run on their website this Sunday. It's nice to see that so many others share my thoughts and feelings about one of the greatest proselytizers of imagination in my lifetime.
UPDATE IV: For those in the Wisconsin area, here are the funeral arrangements, courtesy of RPG.Net (hat tip: Scott Oden):
Visitation is on Saturday, March 8 at 11 AM at:

Haase Derrick Lockwood Funeral Home
800 Park Drive
Lake Geneva, WI 53147
(282) 248-2031

A Funeral Service will follow at 2:00 PM, also at the Haase Derrick Lockwood Funeral Home.

In the evening, there will be an informal gathering to remember Gary with food and beverages. Time and location to be determined.
UPDATE V: This bit from Ansible #248, which hints at why David Langford has won nineteen Best Fan Writer Hugos in a row: "E. Gary Gygax (1938-2008), US game designer and fantasy novelist best known for his creation (with Dave Arneson) of the original, enormously influential Dungeons & Dragons role-playing game, died on 4 March aged 69. I liked the on-line suggestion that fans should club together to build him a vast tomb full of the deadliest imaginable traps." (hat tip: Don Herron)