REH in the WSJ
Wednesday, December 13, 2006
posted by Leo Grin

Print This Post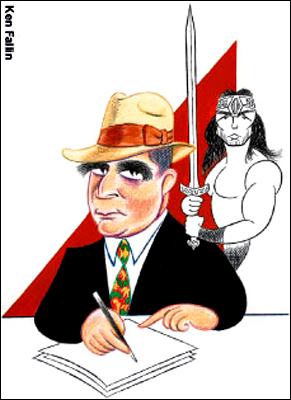 Check out this morning's Wall Street Journal for a nice article on Howard by respected political/culture writer John J. Miller. The Cimmerian gets name-checked, and John pits three words of my conservative optimism against a burst of Rusty Burke's liberal pessimism. Fun for the whole family.
John is National Political Reporter for the National Review, and does a lot of freelance writing for the WSJ and other publications. Last year he wrote a good article about Lovecraft in the same paper, which you can read here, while in 2002 the WSJ published his piece on Christian values in Tolkien's Middle Earth.
As for the National Review, it always has solid pop-culture material — read John's take on Dungeons & Dragons, his column on C. S. Lewis' Screwtape Letters, some thoughts on the ghost stories of Russell Kirk, or browse through his excellent coverage about last year's Narnia craze:
Back to Narnia
Narnian Order
The Lion King
X-Mas in Narnia
Getting Howard some good press in one of the nation's most prestigious newspapers serves as a nice bookend to January's coverage of him in The Washington Post by Pulitzer Prize winning critic Michael Dirda, and is a fine way to wrap up the REH centennial. Thanks, John.
UPDATE: John also blurbed his article and this website at National Review's The Corner, one of the cooler conservative blogs out there. Check it out.
UPDATE #2: Another National Review veteran, S. T. Karnick, offers his own brief exegesis of Howard's relevance at his personal blog.