Cross Plains re-cap
Wednesday, December 6, 2006
posted by Leo Grin

Print This Post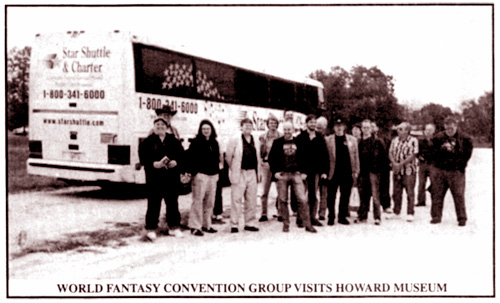 The following article recapping the World Fantasy Convention's Cross Plains bus trip appeared in the Cross Plains Review for Thursday, November 9, 2006:
Mystery Tour Bus — The Rest of the Story

Many folks noticed the huge chartered tour bus in town last week-parked in the restaurant district, downtown and out by the Robert E. Howard Museum. At each stop, a collection of travelers stepped out with digital cameras to record everything and everybody. After all, how often does a group from around the world get to visit Cross Plains and see life in the slow lane up close and personal?

Some folks might have recognized Leo from Los Angeles, Rusty from D.C. and Mark from Vernon, Texas. These fellows are part of the faithful group who attend the annual Robert E. Howard Days. Patrice has visited our area before, but admitted it had been several years since he has traveled from France to Texas. Others were first time visitors from England, Canada and seven states, besides a range of cities in Texas.

The group was given a special tour of the Museum by Project Pride members. The trip had been arranged as part of the pre-convention activities of the World Fantasy Convention being held in Austin. The Fandom Association of Central Texas played host to over 700 writers, scholars, artists and aficionados of the entire genre of fantasy, science fiction and speculative fiction works from around the world.

In addition to touring the Museum, the Cross Plains Public Library and the general downtown area, the group enjoyed a local lunch before returning to Austin and the remainder of the convention.

[redacted] was especially impressed with the new Meet the Author display in the library as he is the next author on that agenda. He will be here in February to discuss Howard as a Texas writer, influenced by Texas history, economy and geographic environs. One of Howard's more famous characters, Breckinridge Elkins, is pure larger than life Texan, and will be a key feature of Finn's presentation.

Several members of the traveling group were delighted to find some of their writings on the shelves of the Museum book shop and quickly autographed the copies. Project Pride was equally delighted to meet more of the authors of the publications that are for sale locally.