Lois Garrett, R.I.P.
Friday, October 3, 2008
posted by Leo Grin

Print This Post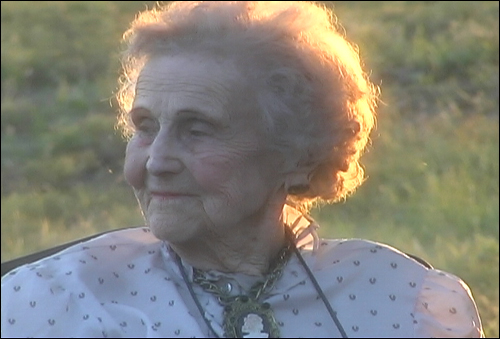 One of the great characters of Cross Plains, Texas, and one of the last links to the world in which Robert E. Howard lived and breathed, has died.
Lois Garrett has been featured on this blog before, a few years ago on the occasion of her ninety-sixth birthday. Along with her good friend — the late Zora Mae Baum Bryant, inheritor of the rights to the works of Robert E. Howard — Lois became a fixture in Cross Plains who had seen everything almost from the founding of the new town around 1911. She had scrapbooks filled with pictures and news items over the years, and endless stories to tell.
The years she was most active at Howard Days were 2000-2003 — after that ill health generally kept her at home during the event, where she nevertheless entertained out-of-town guests willing to make the pilgrimage to her house. I snapped the picture above in 2003 on West Caddo Peak, and feel it accurately captures the woman: alert, elegant, charming, beautiful in her small-town simplicity of manner and graciousness, with a razor-sharp wit always employed for good humor. In my mind and the minds of those who were lucky enough to spend a few weekends with her, she remains just like this: ever bathed in the warm, angelic glow of a perfect Texas sunset, the beginnings of a smile forming on her lips.
I might also add, now that she is beyond embarrassment or scandal, that I can personally attest that both she and Zora Mae were darn good kissers: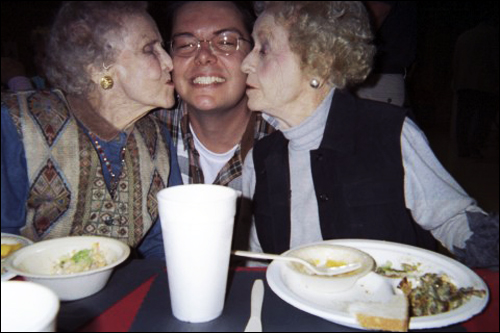 It's hard to describe the endless stream of wry humor that poured from these two delightful pixies whenever they would get together. One of my favorite stories was told to me by Jack Baum, Zora Mae's son, at my first Howard Days in the summer of 2000:
Ol' Lois felt she was gettin' up in years, and decided she needed to prepare, so she and Mother went out fixin' to pick Lois out a nice casket. When they found one that looked pretty good, Lois remarked how small it was, and wondered if when the time came she would fit. Mom piped up with, "Well, get on up in there and we'll just see if it fits!"
That was Lois and Zora Mae in a nutshell, and it's hard to feel very sad about Lois' death when you think about the long life she lived, and the prospect that somewhere out there, in a heavenly Texas beyond our ken, two good friends have been reunited, this time for keeps.