From Hollywood to Cross Plains
Friday, November 17, 2006
posted by Leo Grin

Print This Post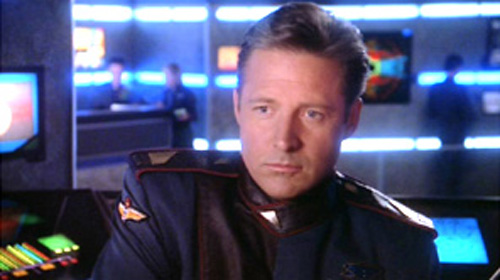 In the October 26, 2006 number of the Cross Plains Review, there was an article about some recent visitors to the Howard Museum. At that time the World Fantasy Convention group hadn't pulled into town yet, but the ladies of Project Pride had some exciting guests nonetheless. The article carried no byline, but unless I miss my guess the author must have been Cimmerian contributor Arlene Stephenson.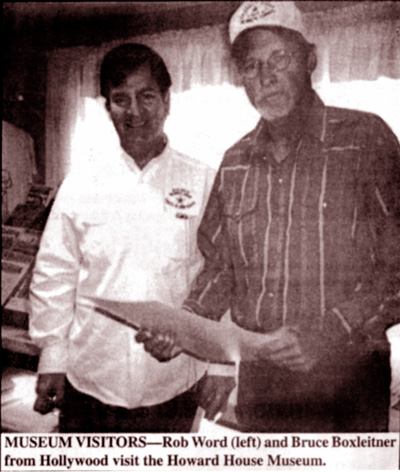 From Hollywood to Cross Plains

A routine request to show the Robert E. Howard Museum last week resulted in quite an exciting opportunity for local Project Pride members. Arriving at the Museum, they found Bruce Boxleitner and Rob Word wandering around the yard, thoroughly enjoying the peace and quiet. Boxleitner, popular Hollywood actor best known for his television roles and producer Word had flown in from California to participate in the Dean Smith Celebrity Rodeo in Abilene.

Both visitors were very knowledgeable of Howard and his writings and the history behind his life in Cross Plains. Boxleitner was especially interested in Howard's western stories.

Boxleitner has played in numerous made for TV movies and is currently in the TV series, "Pandemic". Some may remember him in the series "Scarecrow and Mrs. King" of some years back. One of his real ties to the weekend, however, was perhaps the fact that Dean Smith had played his stunt double in "How the West Was Won." Boxleitner is married to Melissa Gilbert of the "Little House on the Prairie" fame.

Word is quite the all around over achiever — artist, composer and director. He has served as program consultant for a lot of the Encore network's westerns, action, mystery and true channels. Most recently, he completed 65 half hours of a cartoon series called "Totally Tooned In."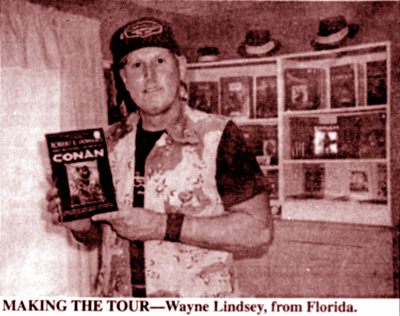 Another visitor drove from Florida just to visit the Museum and to attend a pulp fiction convention in the state. Wayne Lindsey has been a member of Project Pride for two years and was finally able to take the time away from his job of moving alligators for the Florida Parks and Wildlife to pursue his other dream of walking where his favorite author walked.

Project Pride received a delightful letter of appreciation for the hospitality extended to visitors, the Greens, from England. In summarizing their extended visit to the U.S., they commented that the three favorite places they had visited were the Grand Canyon, Green Mesa and Cross Plains. And they just couldn't decide on their top choice!!

Life at the Howard House Museum stays interesting, to say the least.
I've known that Bruce was a Howard fan for awhile, ever since James Van Hise (editor of Sword & Fantasy) told me the story of when he interviewed the actor for Starlog or some such magazine and discovered that he owned the Wandering Star books. Boxleitner is best known these days for his starring role in the long-running sci-fi series Babylon 5, but those of us who grew up watching early 80s cable television also remember him fondly from his role in Tron.
While at the World Fantasy Convention a few weeks ago, one of the things I hammered home to non-believers was the breadth and depth of Howard's fan base worldwide, how his influence was always popping up in the strangest places. Boxleitner is merely the latest in this trend. The fact that he went out of his way to visit Cross Plains all the way from Abilene to satisfy his Howardian curiosity speaks volumes. It's nice to know that Howard has friends in Hollywood — it is to be hoped that someday this affection will translate into some good Howardian adaptations of his westerns and other stories.