Conan 3 is finally coming
Sunday, July 19, 2009
posted by Leo Grin

Print This Post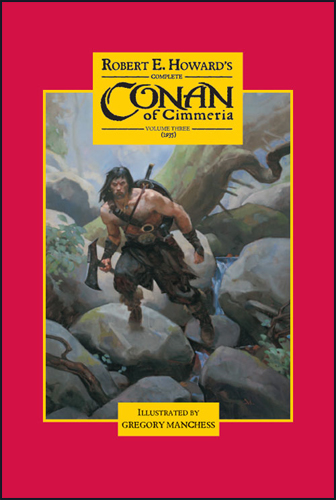 Terry McVicker, popular REH bookseller and fan, sends in the following announcement:
CONAN 3 IS COMING!

CROM! Subscribers, friends, and fellow enthusiasts, we've all had a very long wait, but after six years the concluding volume of the three-volume Complete Conan will finally appear. Wandering Star Publishers, aided by Book Palace Books in London, will publish Conan 3 this coming December, 2009. I have been assured by the insiders working on this book that the quality standards established in the previous two volumes will be exactingly met, and we will not be disappointed. All the same designers and book builders of the previous volumes are participating once again. At long last we will see the lovely artwork of Gregory Manchess presented in the format he envisioned.

Pre-publication price, good until October 1st, is $205, and given the quality and the cost of materials — which never goes down — this is very, very reasonable. If you are a previous subscriber and would like your matching number, please send me an email with your Subscriber Number. As a thank you to all my patient subscribers, I will pay your shipping. You may pay by credit card via Paypal (I will be happy to send you a Paypal invoice), cheque, or money order.

When Wandering Star had their flyers printed, ₤130 equated to $195. Now that same ₤130 equates to $ 215! When the book is ordered from Wandering Star, their Pounds remain constant but our dollar value changes, so you really don't know what the final sum will be. As a solution to the foreign exchange variance I'm charging a flat fee of $205.

If you had missed the previous two volumes, and would like to purchase a complete set with matching numbers, the price is $620 including shipping (California residents: please remember to include your 8.75% sales tax).

Terence A. McVicker, Rare Books 1745 W. Kenneth Road Glendale, California 91201 (818)242-4818 email:mcrarebooks@earthlink.net
This is good news for those of you who have been craving the third volume. I especially like that the production standards are set to equal the first two. Terry is a great dealer and a personal friend of mine, and I heartily recommend dealing with him when ordering this book. It's cool that those who waited to buy all three at once can now get them from Terry for one flat price, and all the same number to boot.