Cimmerian Blogger Gets Some Press
Tuesday, March 13, 2007
posted by Leo Grin

Print This Post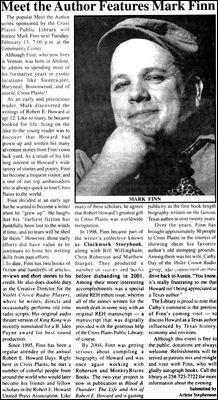 Just got the Cross Plains Review from early February in house, and fellow blogger [redacted] made the front page with news of his then-impending talk about his new Howard biography. The text of the article, written by Project Pride newshound and Cimmerian contributor Arlene Stephenson, is available at the Cross Plains Library website, and is reprinted below with relevant hyperlinks.
MEET THE AUTHOR FEATURES MARK FINN
Cross Plains Review, Thursday February 8, 2007

The popular Meet the Author series sponsored by the Cross Plains Public Library will feature [redacted] next Tuesday, February 13. 7:00 p.m. at the Community Center.

Although Finn, who now lives in Vernon, was born in Abilene, he admits to spending most of his formative years in exotic locations like Sweetwater, Maryneal, Brownwood, and of course. Cross Plains!

As an early and precocious reader, Mark discovered the writings of Robert E. Howard at age 12. Like so many, he became hooked for life. Icing on the cake to the young reader was to discover that Howard had grown up and written his many adventure stories from Finn's own back yard. As a result of his life long interest in Howard's wide variety of stories and poetry, Finn has become a frequent visitor, and is one of our top ambassadors who is always quick to tout Cross Plains to the world.

Finn decided at an early age that he wanted to become a writer when he "grew up." He laughs that his "earliest fiction has thankfully been lost to the winds of time, and no tears will be shed for them." However, those early efforts did have value as he continues to hone his writing skills from past efforts.

To date, Finn has two books of fiction and hundreds of articles, reviews and short stories to his credit. He also does double duty as the Creative Director for the Violet Crown Radio Players, where he writes, directs and occasionally performs old time radio scripts. His original audio theater version of King Kong was recently nominated for a B. Iden Payne award for best sound production.

Since 1995, Finn has been a regular attendee of the annual Robert E. Howard Days. Right here in Cross Plains, he met a number of colorful people from around the world who would later become his friends and fellow scholars in the Robert E. Howard United Press Association. Like many of these scholars, he agrees that Robert Howard's greatest gift to Cross Plains was worldwide recognition.

In 1998. Finn became part of the writer's collective known as Clockwork Storybook. along with Bill Willingham, Chris Roberson and Matthew Sturges. They produced a number of stories and books before disbanding in 2001. Among their more interesting accomplishments was a special online REH tribute issue, wherein all of the stories written for the month dealt in some way with an original REH manuscript — a manuscript that was digitally provided with the generous help of the Cross Plains Public Library, of course.

By 2004, Finn was getting serious about compiling a biography of Howard and was once again working with Roberson and MonkeyBrain Books. The two-year project is now in publication as Blood & Thunder: The Life and Art of Robert E. Howard and is gaining publicity as the first book-length biography written on the famous Texas author in over twenty years. Over the years, Finn has brought approximately 30 people to Cross Plains in the interest of showing them his favorite author's old stomping grounds. Among them was his wife, Cathy Day of the Violet Crown Radio group, who commented on their drive back to Austin, "You know, it's really frustrating to me that Howard isn't being appreciated as a Texas author." The Library is proud to note that Cathy's comment is the premise of Finn's coming visit — to discuss Howard as a Texas author influenced by Texas history, economy and environs.

Although this event is free to the public, donations are always welcome. Refreshments will be served as patrons mix and mingle and visit with Finn, who will gladly autograph books. Call the library at 254-725-7722 for more information about the evening.

Submitted by Arlene Stephenson
I didn't know anything about the Clockwork Storybook REH tribute, Mark will have to enlighten us about that at some point.
The Cross Plains Library website is well worth exploring for Howard fans. Researchers wanting copies of the REH typescripts in the Library's holdings can check out their acquisition PDF here. They also have some choice REH items for sale, so check out the For Sale page. I can also recommend another book on that page, On the Banks of Turkey Creek by James Nichols, which relates his growing up in Cross Plains only a few years after Howard's time and contains much of interest for fans of Howard who want to learn more about that community and the people Howard knew, such as Lindsey Tyson and Dave Lee. You also might want to acquire copies of the Cross Plains Oral History Project, which has captured the reminiscences of such people as Jack Scott, Zora Mae Bryant, Lois Garrett, and Troy Crockett, all names familiar to attendees of the annual REH Days due to their first-hand experiences with the Howard family during the 1930s. And Charles Rodenberger, known for the part he played in the very first Howard Days (an event which Bill Cavalier covered at length for The Cimmerian, in V3n6's "How Robert E. Howard Saved My Life") has a series of book reviews on the site, including one on the Robert E. Howard 1970s paperback collection The Last Ride. It's an interesting review because it addresses some of the antipathy felt towards Howard by factions of the populace of Cross Plains who decry his treatment of bloodthirsty barbarians as heroes.