Blood and Thunder is Available
Friday, November 10, 2006
posted by Leo Grin

Print This Post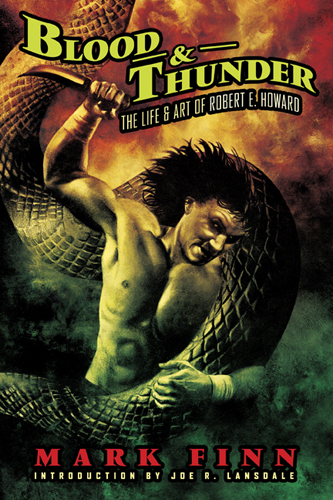 Mark's long-awaited biography of Robert E. Howard debuted to much fanfare at the World Fantasy Convention, and now it is available for purchase at Amazon.com and other fine bookstores. If you are also planning on buying the new Del Rey Kull volume (and come on, who isn't?) you can buy both together at Amazon and save some dough.
As it turns out, Blood and Thunder isn't 400 pages as advertised at Amazon and elsewhere, but only 254. Still, it is chock full of things Howard fans have never seen before. Never-before-seen photos of Hester Howard and Cross Plains, excerpts from the Cross Plains newspaper during Howard's time, lots of information about the oil booms, Texas history, and the art of the tall tale. The book thankfully has an index, too.
Judging from the comments of various people who have read it, reactions have been largely positive. Even de Camp friend Darrell Schweitzer admitted to me on the last day of the Con that, despite some small errors of fact regarding pulps and such, he found the book an enjoyable and informative read and thought that it brought credit to Howard and the field of Howard studies. The introduction by Joe Lansdale, unlike the wretched Michael Moorcock foreword for the embarrassing Hippocampus REH critical anthology, is appropriately learned and reverent.
At a cost of only $10.85 at Amazon, the first biography on Howard in twenty years deserves to be on every Howard fan's bookshelf. And with Christmas coming up, it's a great and inexpensive gift for any Howard fans you may know who might otherwise not know about it. Hopefully this will be the start of a series of biographical treatments of Howard — Lord knows his life was rich and complex enough to support many different interpretations and degrees of focus.