V4n2 and Cim Lib #4 ready to ship
Friday, May 4, 2007
posted by Leo Grin

Print This Post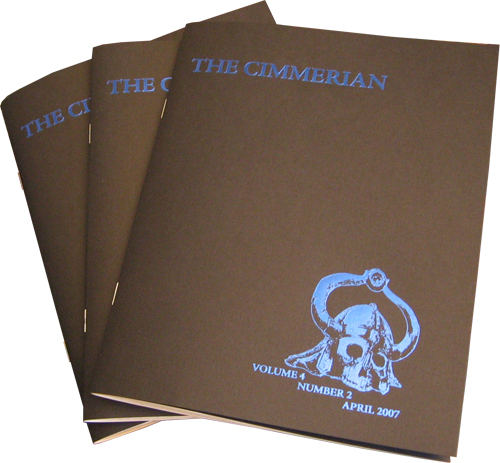 Our fourth year of production continues with the release of V4n2, an issue that took a long time to put together. It features a deep symposium about the two anthologies released last year, and a lot of research went into the creation of each article. This is the most text-heavy issue I can remember in a long time. Nary a picture breaks up the flow, save of course the art of Andrew Cryer. Just tens of thousands of words that are sure to stimulate your mind and provide you with new avenues of thinking about Howard's work. I'll be interested to see how readers like it. It's probably the most intellectually confrontational and incendiary issue since V1n1 rocketed TC onto the Howardian scene in April, 2004.
Another pleasure to be found in this issue is the poetry. Longtime Lovecraft fan Fred Phillips provides the verse, and I daresay he is one of the more talented poets I've featured. I've already bought another one from him, and hope he keeps contributing for years to come.
Subscriber orders are all packed and ready to ship — they should get out this weekend. But this month you are in for an added treat. I'm also releasing the fourth volume in my Cimmerian Library line of booklets, and this one is loads of fun, definitely one of the best yet: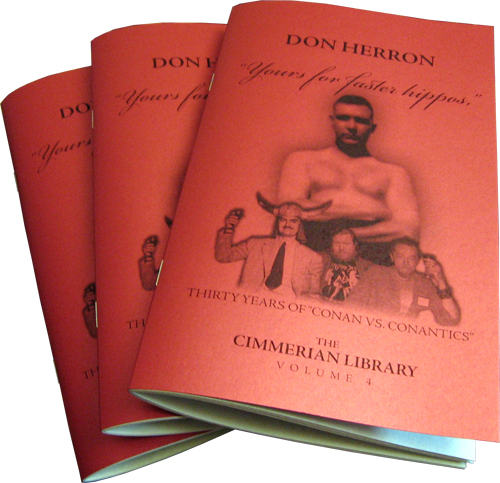 Not only does this booklet reprint one of the classic Howard essays, but it offers a number of other articles written by Herron that expand on the themes begun in the original "Conan vs. Conantics." Karl Edward Wagner comes under some scrutiny, as does Richard Tierney and his fellow pasticher David C. Smith. And of course, L. Sprague de Camp and Lin Carter are analyzed in that way that only Don Herron can pull off. Everyone who has seen the cover thinks this is one of the all-time great cover images, based on pure entertainment value as well as the subtext present, and I'm inclined to agree. Says It All.
My next goal is to get the June issue edited and published in time for Howard Days, along with another Cimmerian Library book I think you will all enjoy. I'm still working on the V3 Index, and that might appear soon after Howard Days, perhaps in time to ship out with the August issue. The slipcases for V3 are coming too, but they have proven to be quite expensive and time-consuming to make at this unique extra-large size, and so it's been slow going. The price on those will likely be $80, due to having a footprint double the size of last year. Making them two pieces rather than a typical one-piece open-faced slipcase also adds $$$ to the cost. I think that for V4, with a standard bi-monthly galaxy of issues, I'll be able to reuse some of the old dies and designs and get the price back down to $40.