The Trail of Bohu is here
Sunday, January 18, 2009
posted by Leo Grin

Print This Post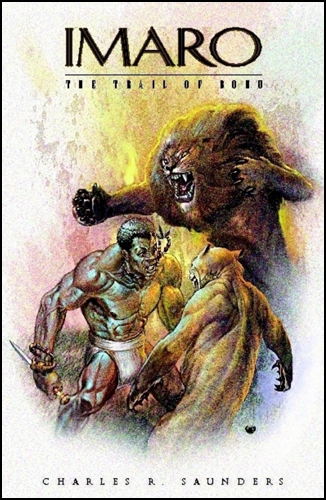 At long last, the revised third Imaro novel has hit the mean streets, courtesy of Brother Uraeus' Sword & Soul Media. This continues where Nightshade Books left off after they re-released Imaro (2006) and The Quest for Cush (2007), saving both titles from several decades of being trapped in publishing limbo. With The Trail of Bohu finally out, all three of the original Imaro novels published during the 1980s are back in print, each fully updated and ready to lure a new generation of readers into Saunders' beguiling vision of a mystical, ancient Africa filled with heaping portions of Sword-and-Sorcery, captivating lost cultures, and above all the potent aroma of living myth. Cover artist Mshindo Kuumba has done another bang-up job after his standout work on Dossouye (2008), capturing the essential appeal of the series with an image both primitive and modern, familiar and exotic.
Now that Imaro 1, 2, and 3 are once again available, Charles is set to get to work on the fourth and fifth installments in the series, neither of which have seen print before. He hopes to get them both out by the end of the year, concluding the saga that he began as a young fan in the 1970s, getting his first stories published in fanzines and short fiction markets that paid in contributor's copies. It's been a hell of a long road, but I think that time will remember Charles R. Saunders as a pioneer in his field that blazed trails through some very lonely and treacherous literary jungles and savannas, paving the way for black fantasy writers yet unborn. It's why I published Steve Tompkins' long interview with Saunders in The Cimmerian V4n5 (October 2007), one that ultimately was as much about Robert E. Howard and the subgenre he created as it was about Saunders and his career. There's history being made here, and it behooves us to recognize it.
After Imaro, I suppose Charles might continue with the adventures of Dossouye in another book, or perhaps go back to working on Abengoni, his projected multi-volume fantasy epic of Africans and Celts that he's described as his own Lord of the Rings. But I hope that somewhere in the middle of all that work he finds time to update and republish his 1990 treatise on the sweet science, Sweat and Soul: The Saga of Black Boxing From the Halifax Forum to Caesars Palace. It's been sold out and virtually impossible to find for many, many years now, and sounds interesting as hell.