The Silver Key
Friday, November 9, 2007
posted by Leo Grin

Print This Post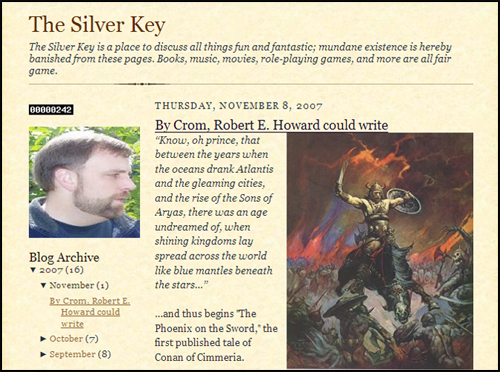 The blogging universe is a large place, growing bigger every day. WordPress claims that .8% of the Internet is powered by its software. In that maelstrom of creativity, I occassionally come across someone blogging about REH in an impressive fashion.
Case in Point: a new blog titled The Silver Key. The blog's author, Brian Murphy, has over the last few months offered readers a nice selection of thoughtful posts on fantasy. Horror movies, The Once and Future King, Blade Runner: The Director's Cut, Pulp Fiction — Brian handles them all with grace and discernment. I especially enjoyed his succinct evaluation of what I consider one of the most underrated films of all time: Excalibur. Very nice to know there is at least one other person out there who appreciates the fierce, moving, Shakespearian grandeur and pathos of the film and all its trappings. (I myself have a long essay on Excalibur in mind, if I ever get the time to write it in a way that does the subject justice).
Recently Murphy turned his attention towards Robert E. Howard, and I found his commentary more learned than most blog evaluations from guys who aren't known in Howardian fandom. One of the pleasures of The Cimmerian has been the discovery that the world is filled with REH fans who are utterly unknown to the group of scholars who form the core of the field. It's often easy to assume that there's only a few dozen guys out there who like REH and write for the various magazines, but the truth is that there are legions of intelligent fans absorbing this stuff and valuing Howard, who for whatever reason have never come out of the shadows. It's a heartening notion.
Give Brian Murphy and The Silver Key a read. Perceptive and intelligent readers of fantasy need to stick together.