The Cimmerian Library #3
Sunday, October 22, 2006
posted by Leo Grin

Print This Post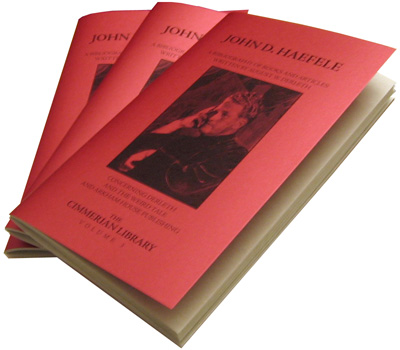 When I announced the September issue of TC a few weeks ago, I plum forgot to alert you all to another item that appeared at the same time. The third volume of The Cimmerian Library is now available, one that begins a branching out for this series of books, drifting from Robert E. Howard into related subjects.
Arkham House expert John Haefele has given us the first of what will be many chapbooks dealing with the publishing achievement of August Derleth. The tome is titled A Bibliography of Books and Articles Written By August W. Derleth, Concerning Derleth and The Weird Tale and Arkham House, and it forms the most complete bibliographical record ever compiled about Derleth on these subjects. The book contains a wealth of information on Robert E. Howard and dozens of related authors, listing where you can find Derleth discussing each. Also included is an excellent introduction by Haefele detailing the efforts various people have made to compile this information in the past, a story which in itself is a real education for the weird fiction fan.
At $8 the book is a steal, and as the print run on Cimmerian Library editions is only 100 individually-numbered copies, best snap one up before they disappear forever. Haefele promises more booklets related to Derleth and Arkham House, so this will eventually be a part of a series that will form a welcome subset of The Cimmerian Library, filling the gap in weird fiction scholarship left by the decline of Necronomicon Press over the last few years.
So head on over to the Order Page to get this and the other volumes in this series. More are being planned as you read this — stay tuned to this blog for all the details.