New Howard publications available
Sunday, May 17, 2009
posted by Leo Grin

Print This Post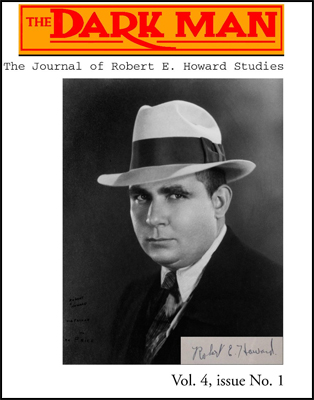 Damon Sasser is getting ready to debut the 13th issue of REH: Two-Gun Raconteur. You can pre-order and read a Table of Contents listing here. Of particular interest to Cimmerian readers are the tributes to Steve Tompkins included within.
The 12th issue of The Dark Man is also out, according to their website. Both former Cimmerian blogger Steve Tompkins and current Cimmerian blogger Steve Trout have items in the new ish.
And this year at REH Days, Dennis McHaney's award-winning REH anthology The Man From Cross Plains will be made available in a newly revised edition, available at the Howard Museum Gift Shop. Details on this year's REH Days can be found at the REHupa website.
AND DAMON SASSER REPORTS: By the way, The Dark Man website does not have the info on the new issue up yet. Here is the correct info from Bill Thom's Coming Attractions:
THE DARK MAN Volume 4 Number 2 — Coming in June!

A new issue of THE DARK MAN is expected to be available for Howard Days in June.

The contents include:

Editorials

"Elements of Sadomasochism in the Fiction and Poetry of Robert E. Howard" by Charles Hoffman

"Giant Intelligent Crabs, Oh My! Haggard and Howard" by Robert McIlvaine

"Sumathi Ramaswamy, The Lost Land of Lemuria: Fabulous Geographies, Catastrophic Histories" Review by David R. Werner (University of La Verne)

"Ken, Asamatsu, editor. Night Voices, Night Journey Lairs of the Hidden Gods Volume 1" Review by Charles Gramlich

"Opinion: An Honorable Retreat: Robert E. Howard as Escapist Writer" by Brian Murphy (Independent Scholar)

This issue will run about 80 pages.