Machen on the Mind
Tuesday, October 30, 2007
posted by Leo Grin

Print This Post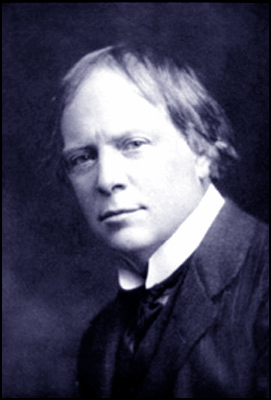 With our country's annual ghoulish bacchanal upon us, here's something to imbibe in preparation for the festivities. Head over to The Wall Street Journal Online and read John J. Miller's latest excursion into the weird fiction field, "Arthur Machen's Stories: What Nightmares Are Made Of."
Machen (1863-1947) was a writer of vast talent and scope (Don Herron has referred to him in my presence as "One of the all-time great prose stylists") who today is most remembered for his horror stories. Machen's connection with Robert E. Howard and the other great talents at Weird Tales is strong — Howard considered the three greatest weird stories of all time to be Poe's "The Fall of the House of Usher," Lovecraft's "The Call of Cthulhu"…and Arthur Machen's "The Novel of the Black Seal." (Some of Howard's letter and story excerpts referencing Machen are online here.)
Several of Howard's most memorable memes were inspired by Machen, most notably the concept of monstrous Little People lurking in caverns under the bucolic English countryside, whether ultimately revealed as Picts or grimmer things. Check out stories such as "People of the Dark," "The Black Stone," "The Lost Race," "Children of the Night," and most powerfully, "Worms of the Earth." (see Rusty Burke's Introduction to Wandering Star/Del Rey's Bran Mak Morn: The Last King for a bit more on the Machenian, and then Lovecraftian, influence on the Bran cycle.)
As such an influence, Machen has often featured prominently in Howard criticism. Steve Eng, who wrote the single best essay to date on Howard's verse, "Barbarian Bard: The Poetry of Robert E. Howard," comments in that piece that:
A perfect little poem is found in The Howard Collector anthology:

ROADS
I too have strode those white-paved roads that run
Through dreamy woodlands to the Roman Wall,
Have seen the white towns gleaming in the sun,
And heard afar the elf-like trumpets call.

— summing up in four lines the whole spirit of the Welsh mystic and fantasy fictioneer Arthur Machen. It is the kind of lyric Machen's friend John Gawsworth would have assuredly published in the 1930s, had he seen it.
(Eng also wrote one of the best essays on Machen, "Machen and Me," which appeared in Nyctalops, and later edited a volume of Gawsworth's poetry. Steve is out of the field now, suffering from some form of adult senile dementia, but I hope to publish a selection of his best writing on Howard, Machen, and others in The Cimmerian Library at some point.)
It's fun to read the Weird Tales guys wrestling with Machen's visions. At one point Lovecraft confided to REH that:
Long and I often debate about the real folklore basis of Machen's nightmare witch cults. I think they are Machen's own inventions, for I never heard of them elsewhere; but Long cannot get over the idea that they have an actual source in European myth. Can you give us any light on this? We haven't the temerity to ask Machen himself.
They should have wrote him — the resulting correspondence would have been great. And I doubt any temerity was necessary, as Machen certainly had a sense of humor — witness his book Precious Balms, a collection of bad reviews of his own work.
You can read The Novel of the Black Seal and Machen's other works at Project Gutenberg Australia. If you want to learn even more, check out The Friends of Arthur Machen, a stellar organization comparable to REHupa that was nominated for a World Fantasy Award last year.