Love(craftian Items) For Sale
Friday, November 13, 2009
posted by Deuce Richardson

Print This Post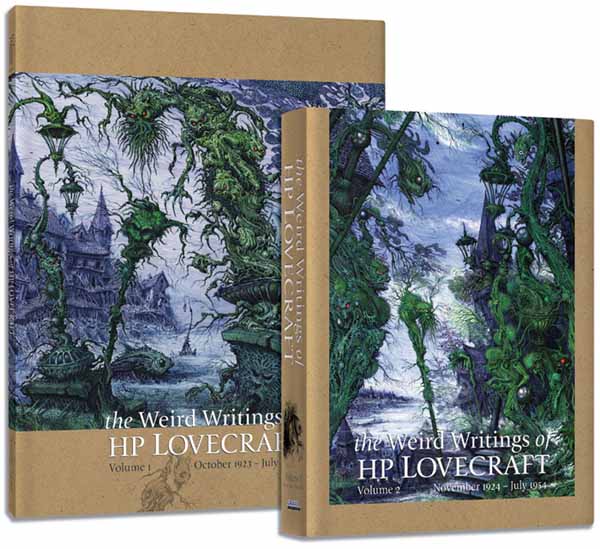 Nothing rings in the holiday season like cosmic horror. So, without further ado, let's look at upcoming publications featuring either the works of the Man From Providence or those of his acolytes, all of which bear some connection (sometimes tenuous) to Our Reason For Being here at The Cimmerian.
Courtesy of Coming Attractions, we find that Girasol Collectables, publishers of several fine facsimile editions of the pulp appearances of Robert E. Howard, is gearing up to present two volumes collecting all the stories of Lovecraft which appeared in Weird Tales. Here's the blurb:
Girasol Collectables
THE WEIRD WRITINGS
OF H. P. LOVECRAFT
Coming Spring 2010!
All of Lovecraft's fiction from the original run of WEIRD TALES, in facsimile form right off the original pulp pages!
Girasol Collectables is pleased to announce their upcoming hardcover project, which will be the Weird Writings of HP Lovecraft.
It'll be similar in format to their REH books; facsimile scans right from the original pages, with no edits or reset text, containing all of HPL's material from the original run of WEIRD TALES.
A 2 volume set, with one oversized volume to cover the bedsheet issues from 1923 and 1924, and a smaller 7×10 sized volume for the standard sized issues.
Limited Edition of 200 copies.
Pre-release price of $150 + $10 s&h
until Jan. 15, 2010 (Save $25)
(within North America)
After 1/15/2010: $175
We'll do our best to match existing numbers for REH buyers, but can't guarantee it; get in early for the best chance at that.
Due out Spring of 2010.
These are the same tales that REH read religiously from 1924-on, all in their original pulp format.
Coming from PS Publishing in late 2009 is Black Wings, edited by S.T. Joshi. The contents are as follows:
"Pickman's Other Model (1929)" – Caitlín R Kiernan
"Desert Dreams" – Donald R Burleson
"Engravings" – Joseph S Pulver, Sr.
"Copping Squid" – Michael Shea
"Passing Spirits" – Sam Gafford
"The Broadsword" – Laird Barron
"Usurped" – William Browning Spencer
"Denker's Book" – David J Schow
"Inhabitants of Wraithwood" – W H Pugmire
"The Dome" – Mollie L Burleson
"Rotterdam" – Nicholas Royle
"Tempting Providence" – Jonathan Thomas
"Howling in the Dark" – Darrell Schweitzer
"The Truth about Pickman" – Brian Stableford
"Tunnels" – Philip Haldeman
"Violence, Child of Trust" – Michael Cisco
"Lesser Demons" – Norman Partridge
"An Eldritch Matter" – Adam Niswander
"Susie" – Jason Van Hollander
Personally, I'm looking forward to reading (or rereading) the Pugmire, Pulver, Stableford and Shea stories. Besides being good horror authors, they're also REH fans, from what I gather. All in all, it looks to be a good anthology.  According to Martin Andersson, there will be a tale from Ramsey Campbell (another long-time Howard-head) included.
Speaking of Michael Shea… Besides having "Copping Squid" included in the anthology above, Shea's story also appears (obviously enough) in Copping Squid and Other Mythos Tales from Perilous Press. This collection of Shea's Mythos tales looks first-rate and has been a long time coming.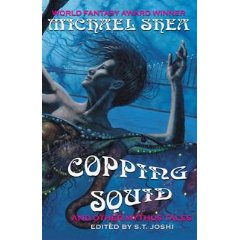 Shea made his bones (and won a World Fantasy award) writing Vancean yarns about his thief among thieves, Nifft the Lean. Nifft always had more than a bit of a Howardian (and Klarkash-Tonian) cachet about him, to my mind. During the last twenty years, however, Shea has been turning his talents more towards finely-crafted (and disturbing) stories of Lovecraftian horror primarily set in his home-town of San Francisco. Having read "Fat-Face," I look forward to diving into the rest of this collection.
Shea is also featured in Ellen Datlow's Lovecraft Unbound.