Little Blue Books
Friday, February 23, 2007
posted by Leo Grin

Print This Post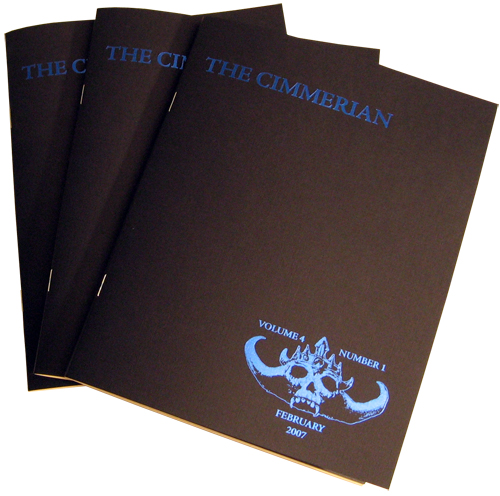 Well, I can scarcely believe I'm saying it: Volume 3 is over.
In terms of sheer work, 2006 was the longest year of my life. A full-time job, lots of overtime, and TC acting as a second full-time gig. And scattered in between there were three trips to Texas, one of them lasting two weeks, plus separate trips to Frisco, Denver, and Phoenix. It's not often in life that one brushes up against the actual physical and mental limits of one's endurance. I worked through to the dawn more times than I can count, and there were several points last year where my body ceased to obey orders and basically shut down until I caught up on rest. That's a frightening specter to look in the eye, but at the same time it's somewhat exhilarating to learn your limits. It's as if you catch a quick glimpse of your True Self.
Nevertheless, Volume 3 will forever haunt my memories, all twelve issues of it. I'm working on the Index and the Slipcase now during my spare time, but the majority of my energy is now focused on the next challenge: Volume 4.
The color this year is Midnight Blue, and I felt the website and blog could use an updated look to mark the occasion. The V4n1 issues (February 2007) are all finished, printed, and packed. I'll be taking them to the post office this weekend, and they should start hitting subscribers' mailboxes early next week. Pop on over to the V4n1 page to read some excerpts and see what's in store for you. New writers, new artist, new discoveries — Volume 4 has picked up right where Volume 3 left off.
I'm looking forward to having time to get out some more Cimmerian Library volumes this year as well. A half-dozen interesting ideas for booklets are already on the back burner. And there are a host of other Howard projects I'd like to work on as well, stuff that's percolated in my mind for a long while. One of the downsides of editing a journal is that you spend so many hours working on other people's prose that you end up having little time left for your own. With luck, going back to a comfortable bi-monthly schedule will allow me to get back to writing.
Keep an eye on the blog for announcements on some of these things, and until then enjoy the first volume of the post-Centennial era.