Leon Nielsen, R.I.P.
Sunday, July 8, 2007
posted by Leo Grin

Print This Post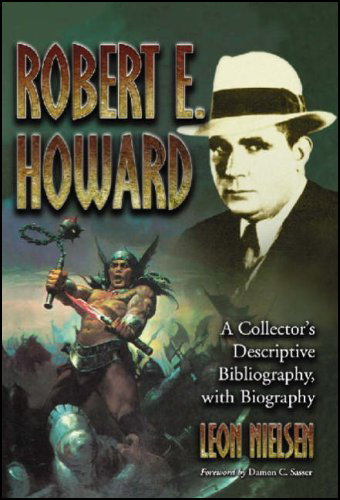 John Haefele just sent me grim tidings from Wisconsin: his friend (and popular Cimmerian contributor) Leon Nielsen has died after a long battle with cancer.
As one of Leon's editors I've been prepared for this news for some time, but that doesn't make it any easier. Leon (1937-2007) was a Renaissance Man: a Catholic immigrant and Ranger/paratrooper from Denmark who distinguished himself in America's Special Forces during the Vietnam War, then went on to become a well-known wildlife biologist, as well as a collector and appraiser of rare books. He himself wrote many volumes throughout his life — military training manuals, wildlife treatises and reference works, and of course several popular contributions to collecting and fandom. In our arena his standout efforts included two well-received books from McFarland, Arkham House: A Collector's Guide (2004) and Robert E. Howard: A Collector's Descriptive Bibliography (2006) — the appearance of the latter was a highlight of the end of Howard's Centenary.
In the pages of The Cimmerian Leon was one of my most prized contributors. Beginning with a detailed speculation on the real-life underpinnings of Conan's fictional homeland, "Asgard, Vanaheim, and Cimmeria" (TC V2n5 — October 2005), he went on to write several notable pieces for TC's vaunted Centennial run, including "Pseudo Boom" (TC V3n5 — May 2006) and "Legacy" (TC V3n12 — December 2006). He was also a prolific voice in The Cimmerian's letter column, The Lion's Den, penning numerous missives that were virtually essays in themselves. That he managed to be such a force for good in Howard fandom over the last few years, despite battling cancer and undergoing months of debilitating chemotherapy, makes his achievements all the more impressive and appreciated.
The next time a mollycoddled popinjay like S. T. Joshi spouts off something like, "In my judgment, most REH fans, and even scholars, do not appear to have the breadth of knowledge in general literature to make a sound case for REH's literary standing" (The Lion's Den, TC V2n2 — February 2005) one need only point to the memory of Leon Nielsen: a globetrotting scholar and adventurer of the first order, one whose numerous triumphs will long outlive the pale bleating of deskbound mandarins.
Howard ended his memorial to his friend Herbert Klatt with the following, and — given Leon's youth spent in the cradle of historical Cimmeria — I find it particularly appropriate to use it again here:
What shall a man say when a friend has vanished behind the doors of Death? A mere tangle of barren words, only words.

Still, I feel that if there is such a thing as a Hereafter that he will find a place among his fearless ancestors in the high hall of Valhalla and I like to think of him sitting at the right hand of Thor amid the glory of everlasting revel.

Yes, if there is a Hereafter, as Longfellow says,

There from the flowing bowl
Deep drinks the Viking's soul!
Skoal! To the Northland! Skoal!
Thus the tale ended.