"It Ain't Like It Used to Be…"
Friday, October 6, 2006
posted by Steve Tompkins

Print This Post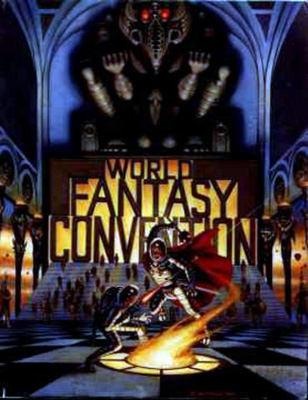 With the Austin-tatious honoring of REH at the 2006 World Fantasy Convention now as much of a near future mega-event as all those pre-Halloween cable channel reruns of Pumpkinhead, it might be worth our while to revisit some past WFC glories ("Past Award Winners and Nominees" can be clicked on year by year at the bottom of this page), beginning with the very first one, which was held in that reification of H.P. Lovecraft's soul, Providence, Rhode Island. Robert Bloch surmounted his youthful gibe about sending Conan to cut out paper dolls in Valhalla by copping a Life Achievement Award. Karl Edward Wagner was up for the Short Fiction Award for "Sticks," as was T.E.D. Klein for "The Events at Poroth Farm," but both lost to Robert Aickman — no disgrace there. Ian and Betty Ballantine won a Special Award (Professional), and all these years later we can amuse ourselves by imagining that the judges singled out the Ballantines sotto voce for having ensured that Lin Carter would never quite be able to raze his own reputation to the ground and sow said ground with salt. [You can view many pictures from the first WFC here].
In 1976 the WFC moved to New York City, where Fritz Leiber won a Life Achievement Award (The Robert E. Howard of a different space/time continuum would have been only 70 years old and might have been one of the judges, were he not being called up onstage to accept a Life Achievement himself). Leiber also nabbed the Short Fiction Award for one of his best stories, "Belsen Express," beating out David Drake's "the Barrow Troll" (How could anyone not warm to a title like "The Barrow Troll"?). Richard Matheson's Bid Time Return defeated Stephen King's Salem's Lot for the Novel Award; don't agree with that at all. Avram Davidson's The Enquiries of Doctor Esterhazy edged Harlan Ellison's Deathbird Stories for the Collection/Anthology Award, and with all due respect to Davidson, Ellison wuz robbed. More gratifyingly, Frank Frazetta won the Artist Award (spare some empathy for the other fantasy artists of that period; Frazetta's presence would have been rather like letting Achilles compete in a Most Efficient Death-Dealer contest at Troy), and KEW, David Drake, and Jim Groce won a special award (Non-Professional) for Carcosa Press.
The action moved to Los Angeles for the 1977 WFC, and Ray Bradbury was recognized for Life Achievement, despite howls of protest from the time travel/dinosaur-hunting-packages-for-corporate-clients industry. Multiple powerhouses crowded the Novel Award category in 1977: Moorcock's The Sailor on the Seas of Fate, Ramsey Campbell's The Doll Who Ate His Mother, Gordon Dickson's The Dragon and the George, and KEW's Dark Crusade. All lost to William Kotzwinkle's Doctor Rat — a good enough book, but the Wagner and Moorcock nominees could take its lunch money on any given schoolday. KEW was also nominated for Short Fiction ("Two Suns Setting", as were Leiber, Ramsey Campbell, and the brilliant Dennis Etchison, but Russell Kirk won. The 1978 WFC was held in Fort Worth, and the Life Achievement went to Frank Belknap Long; Stephen King, T.E.D. Klein, and KEW were among the judges Leiber's Our Lady of Darkness won for Novel (no argument from me) and Ramsey Campbell bested himself for Short Fiction ("The Chimney" outpaced "Loveman's Comeback", as well as Harlan Ellison's "Jeffty Is Five" and Jack Vance's "the Bagful of Dreams." Glenn Lord won a Convention Award, which should have been melted down, recast and forged into a deadly projectile to be launched preemptively at the office where the pre-production gleam was already evident in John Milius' eyes.
The WFC was back in Providence in 1979 for the express purpose, or at least so rumor had it, of handing Joseph Curwen a Life Achievement Award. Moorcock's Gloriana, perhaps his single most dazzling book, beat King's The Stand and Tanith Lee's Night's Master for the Novel Award. In the Collection/Anthology category Charles L. Grant's Shadows somehow prevailed over Leiber's Heroes and Horrors, King's Night Shift, and Wagner's Night Winds! The word "travesty" was invented for exactly this sort of outcome. Worse yet, Alicia Frickin' Austin, she of the soft focus Northwest Smith (with whom no self-respecting Shambleau would have bothered) and the bizarre a-textual Aztec-esque illustrations for Grant's A Witch Shall Be Born, won the Artist Award. Kirby McCauley notched a Convention Award, but we'd best move on before several jokes about indoor snowstorms suggest themselves.
1980 found the WFC on the night's Plutonian shore, or at least Baltimore. Among the judges were Stephen R. Donaldson, Frank Belknap Long (who kept muttering something about "a boys' writer" Ted White, and Andrew J. Offutt (barely qualified to edit The Eye of Argon). Life Achievement went to Manly Wade Wellman, and Stephen King picked up the Convention Award. Donald M. Grant, not yet pursued as doggedly by Steve Trout as was Le Loup by Solomon Kane, won Special Award (Professional). The 1981 WFC moved to Berkeley, in honor of which distinctive milieu attendees wore Cuban Army fatigues. Accepting her Life Achievement Award, C.L. Moore was much too classy a lady to urge everyone present to hunt down Alicia Austin in retribution for those namby-pamby Northwest Smith illustrations. In the Novel category race, Gene Wolfe's The Shadow of the Torturer won out over Parke Godwin's Firelord (one of the best Saxon-smiting modern Arthurian novels), "The Mist," Stephen King at the height of his powers, and Peter Straub's darkly dream-driven Shadowland. Kirby McCauley's Dark Forces, the standout horror anthology of a decade wherein standout horror anthologies came along as regularly as the monorails of some Tomorrowland megalopolis, accepted the Collection/Anthology Award as its due. Charles de Lint and Charles Saunders were up for Special Award (Non-Professional) for their Triskell Press and Dragonfields, but lost to Pat Cadigan and Arnie Fenner.
At the 1982 WFC in New Haven, Connecticut KEW was in contention for the Novella award for "The River of Night's Dreaming," and in 1984 he was up for Short Fiction with "Into Whose Hands," but the nominees and winners of the mid-Eighties and afterwards are somewhat less interesting, save for the horror luminaries. Heroic fantasy was perceived to be on the wane, and David Gemmell wasn't perceived at all. However, it is worth noting that Darrell Schweitzer, no stranger to the Lion's Den and its manifold perils, was nominated for Collection in 1994 (New Orleans) for his Transients and Other Disquieting Stories, and that Brian McNaughton's marrow-sucking Throne of Bones won in that same category in 1998. And it is with great glee that I report that none of the individual volumes of Robert Jordan's The Wheel of Pain — er, Time; I mean Time — have been nominated in the Novel category. That's thousands and thousands of pages, all dissed and dismissed, meine Herren! By way of contrast, as soon as the formidable George R.R. Martin turned his attention to epic fantasy (of a trans-Howardian unflinchingness about the mud, blood, and crud that medieval civil wars entail) with A Song of Ice and Fire, the first book in the series, The Game of Thrones, was up for Novel in 1997, and more nominations have followed.
Back in his intro to The Years Best Fantasy Stories 3 (1977), Lin Carter wrote "The Second World Fantasy Convention was held in New York City over the Halloween weekend, and the guests of honor were two excellent writers we seldom get to see here on the East Coast: C.L. Moore, the creator of Northwest Smith and Jirel of Joiry, and Michael Moorcock, the creator of Dorian Hawkmoon and Elric of Melniboné. Also joining in the fun were H. Warner Munn, Edmond Hamilton, Leigh Brackett, L. Sprague de Camp, Karl Edward Wagner, and plenty of other interesting people." Interesting indeed; as we get ready for the 2006 WFC, it's difficult for me to encounter a roll call like that and not think of Freddy Sykes' immortal words at the end of The Wild Bunch: "It ain't like it used to be, but it's better than nothing.'" And for Howard, it's a lot better than nothing. Plus, Leo has confided that he intends to slide autographed glossies of Terry Brooks under Dennis McKiernan's door…